Measurements to Excel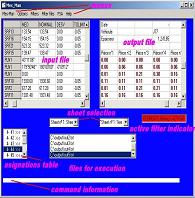 The objective of this application is to facilitate the management of data generated by measurement applications of three-dimensional pieces such as Metrolog, PcDmis or Tutor, in order to export the values obtained during the process of measurement to an Excel spreadsheet.
The application is designed for the work with repetitive pieces (as the case of measurement of "serial-points") in which the necessity to handle the data properly forces a greater effort and is inclined to errors. There is also the possibility of selecting concrete information and to send to the Windows clipboard where it remain available for any other application of the system.
The system uses the outputs generated in the three-dimensional measurement systems (exit ASCII in the case of Metrolog, .RTF files in the case of PcDmis or the files .MEA in the Tutor application. Of the above mentioned files it is compiled the information of the measured elements considering in every case the real, theoretical values and diversions, as well as the information of tolerance, etc.
In order to locate the data, an Excel spreadsheet is required (normally, the customer provides this file, that includes the statistical calculations and verifications that are to fulfill the serial-parts) The system allows to select the data that are desired to transfer from the file of results of measurement to the spreadsheet selecting in the screen the wished values.
Once indicated all the values that are desired to transfer, this information can be kept in a file , in order to, in next executions, not to have to repeat the operation of selection of values.
With the data of values to transfer selected, it is necessary to indicate to the system the files of the serial-parts from which we want to select the equivalent values to overturn them all in successive columns (or rows) of the spreadsheet. Once selected these files, the process can be executed, with what the information corresponding to all the selected files will be recorded adequately in the spreadsheet of destiny.




Software Information
System Requirements
Version:
6.0

Windows 2000, XP, NT, ME, 2003 Server, Windows Vista
Office 7 like minimum
15 MB of space in the hard disk

File Size:
13.70 MB
License:
Free to try, $300.00 to buy
Screenshot:
View Screenshot
Rating :
The system incorporates diverse options to select and to transfer the different values:
Scripture in row or column
Scripture changing the sign of the values or annulling it
Selection of elements in groups of cells or individually (maintaining key CTRL pressed elements can be added/cleared)
Possibility of transferring elements in the order in which have been selected independently of their position in the input file.

In order to facilitate the task of selection of values ther is the possibility of using filters that simplify the number of data that appear in the window of measurement results. Thus it is possible to select that, for example, in the measured circles only the diameter information appears, or that in the measured points only appears the distance 3D and the values corresponding to every coordinate, etc. For every type of measured element it is possible to select what values are going to be present. It is what is named in the application filtering by values. Finally indicate that the system verifies that the data of the files utilized for the execution be congruent, notifying if the case was detected that the values in some of them not correspond with that of the original selection.




RELATED SOFTWARE DOWNLOADS FOR MEASUREMENTS TO EXCEL