Insight Developer for Mac OS X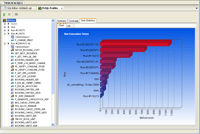 Insight Developer is an IDE for Oracle Database.It is fast,full features and cost-effective solution for Oracle database development. Whether you are a database or application developer, DBA or Business analyst, Insight Developer offers all essential interface to make you more productive than ever before! Features PL/SQL debugger Code completion Plan Analyzer Session Manager PL/SQL Profiler Database Explorer Unicode Support Blob Editor with text and image.
Insight Developer for Oracle is an Integrated Development Environment for Oracle Database that will boost your productivity and breathe new life into your workflow!
With Insight Developer for Oracle, you'll have access to debuggers, code assists, and a host of other features that will make easy work of any database development project.





Software Information
System Requirements
Version:
2.18

Mac OS X 10.5 or Later
256 MB of RAM

File Size:
5.61 MB
License:
Free to try, $69.90 to buy
Screenshot:
View Screenshot
Rating :
The following list contains many features of the features found within Insight Developer for Oracle:
Insight Developer connect to the following database versions: OracleOracle9i™ Database, OracleOracle Database 10g, OracleOracle Database 11g

The Oracle SQL or PL/SQL Editor is used for most SQL and PL/SQL statement creation, with features such as a tabbed file interface, syntax highlighting, SQL and PL/SQL formatting, auto-completion hints and shortcuts, and much more.

The Database Browser is used to quickly navigate the entire database for detailed information on various database object using a simple schema-to-object tree view. Various functions may be invoked from the Database Browser, including adding referential integrity, adding indexes, analyzing objects, generating DDL scripts, dropping objects, and viewing the Oracle 10g Recycle Bin contents.

The Integrated PL/SQL Debugger allows a user to diagnose complications within anonymous PL/SQL blocks and underlying methods (packages, procedures, etc.). The debugger comes equipped with the ability to set and control the attributes of breakpoints, exception handling, variable value hints, the call stack, a variables list, and evaluating or modifying variable values.

Provides manageability of database sessions, including user and system locks. Allowing the user to kill/disconnect sessions, start traces and monitor open cursors and user queries with execution plans.

The Difference Viewer displays the compared objects in a split window. Differences between the objects are highlighted. It allow compare of objects with PL/SQL file

Profiler interface grants the ability to execute and cache statistical information on PL/SQL blocks and methods (packages, procedures, etc.). The Profiler Analysis displays this statistical information allowing a user to compare executions or view the execution statistics line by line to determine performance problems.

RELATED SOFTWARE DOWNLOADS FOR INSIGHT DEVELOPER FOR MAC OS X