FireShot Pro for Internet Explorer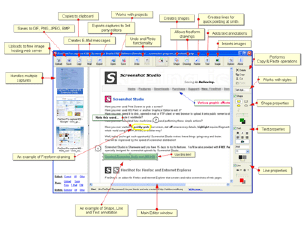 Capture web page screenshot entirely? That's easy with FireShot!
FireShot Pro is an extension for Internet Explorer for quickly captures, edits, annotates, organizes, exports, uploads and prints screenshots of your web pages. Unlike other extensions, this plugin provides a set of editing and annotation tools, which let users quickly modify captures and insert text and graphical annotations. This functionality will be especially useful for web designers, testers and content reviewers. Screenshots can be saved to disk, copied to clipboard, e-mailed and sent to external editor for further processing.
The captures can be easily uploaded to Facebook, Flickr, Picasa, ImageShack, EasyCaptures, custom FTP or HTTP server.
FireShot extension integrates with browsers to provide captures of either the entire web page or the currently visible area only or selected region.
FireShot Pro is an advanced version of this popular extension for Internet Explorer that creates and edits screenshots of web pages.
Software Information
System Requirements
Version:
1.9.94

Windows 7/XP/Vista/2003/2000/NT
100 MB free hard drive space
512 MB RAM or above

File Size:
1.35 MB
License:
Free to try, $34.95 to buy
Screenshot:
View Screenshot
Rating :
Screen Capture modes:
Capturing entire web page: Captures whole web page and displays it in editor.
Capturing visible area: Capturing visible portion of webpage.
Capturing selection.
Capturing browser window: Capturing browser window and its contents.
What can we do with the captures more?
Captures can be saved to disk.
Captures can be copied to clipboard.
Captures can be sent by e-mail.
Captures can be opened in another editor.
Captures can be printed.
Captures can be uploaded to Easycaptures, Flickr, Picasa, ImageShack or to custom HTTP or FTP server.
Selection tools:
Area selection tool: provides rectangular and elliptic selections for further graphical processing.
Graphical tools which work with selections:
Crop tool: cuts off everything that is outside of the selection. This tool is useful when you want totally exclude something from your screenshot.
Fill tool: fills selection with specified color. You may use Color Picker to select a color from the captured screen. This tool is useful when you want totally exclude something from your screenshot.
Gaussian blur tool: blurs selection so that it's impossible to say 100% what you see. This tool is useful when you don't want totally remove something; you just need to make it non-readable.
Grayscale tool: converts colors inside selection to grayscale. This tool is useful when you want to send something to background as minor content.
Color Inversion tool: inverts colors inside selection. This tool is suitable for highlighting.
Glowing edges tool: creates glowing edges around selection. This is very spectacular tool to attract somebody's attention to one or few details at your screenshot.
Interlace tool: interlaces selection. This tool is useful when you want to mark something as minor content.
Vector instruments:
Text and Shape tool: allows you to highlight desired fragment using Rectangular or Elliptical shape and annotate it. This tool is useful when you want to apply annotation to the fragment of your screen and you want to specify boundaries of this annotation.
Text and Freeform Drawing tool: allows you creating freeform drawings and attaching text messages to them.
Text and Line tool: allows creating a pointer supplied with text description.
Text tool: provides text box for simple annotation addition.
RELATED SOFTWARE DOWNLOADS FOR FIRESHOT PRO FOR INTERNET EXPLORER