Database Schema Designer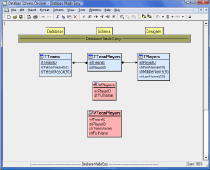 Database Schema Designer is the only graphical Relational Database modeling tool for SQL Server that you will ever need!
The Databases you design are very important to the overall success of your business. This is why you spend countless hours toiling over every detail on whiteboard before writing one line of code. You want to see how everything ties together; it's only natural. Most people can understand a Database's relationships better when they can see the whole thing laid out in a relational diagram.
Database Schema Designer's intuitive user interface has been crafted to provide the most natural methods for creating, maintaining and organizing your Database components. DBSD can generate directly to or reverse engineer directly from your server.Database Schema Designer is Database made easy!
The real problem with a whiteboard ( or any other method ) is that it is not practical for today's complicated Database requirements. Today's Relational Databases use far too many Tables, Views, Stored Procedures, etc. to be designed freehand. Even if you did manage to map out a workable Database model you still have to write the SQL script! In addition, you cannot dynamically interact with a whiteboard in the same way you can with software.Database Schema Designer allows you to model and maintain your Database schemas with speed and precision while the SQL script is being written for you under the hood. You need to change a Table's relationship to another Table? You need to change the name of a column, but dread changing the 100 something other places that column name is used. With Database Schema Designer this is not a problem. Database Schema Designer is the answer to every Database Architects dreams!




Software Information
System Requirements
Version:
1.2.3

Windows 2000/2003/XP/Vista
PC with 2.0 gigahertz processor or higher
512 MB of RAM
SQL Server 2000 SP4, SQL Server 2005 SP2

File Size:
9.88 MB
License:
Free to try, $495.00 to buy
Screenshot:
View Screenshot
Rating :
Key Features of Database Schema Designer:
Simple and Intuitive User Interface
Standard design practices have been utilized to make this application work like many other software packages. You already know how to use this program because you have used other programs!
Supports the Most Frequently Used Database Objects
Check Constraints, Foreign Key Constraints, Functions, Indexes, Permissions, Primary Key Constraints, Rules, Stored Procedures, Tables, Triggers, Types, Unique Constraints, and Views.
Schema Explorer
The Schema Explorer provides easily navigated centralized management of all your Schema Objects.
Automatic Object Naming System
Guarantee consistent Object names through the built in Naming Convention System. Most Schema Objects can derive their name automatically, making your Database Schema come together faster. Any subsequent name changes can update the other related Objects in the Schema so you don't have to.
Portable Open Source Document Format
Database Schema Designer files are saved to disk as a standard XML document. If you do not have access to an installed copy of DBSD, you can edit the file directly using your favorite text editor.
Reach Out and Touch Your Database
Your Schema Document's can easily be generated to SQL code in the text editor, to file or directly to the Database. You can also Reverse Engineer an existing Database directly from the Server.
RELATED SOFTWARE DOWNLOADS FOR DATABASE SCHEMA DESIGNER