Code Warehouse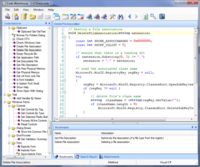 Code Warehouse is the most extensive professional source code snippets manager for software developers. Its users will appreciate the fact that they have full control over the source code. They can use the code, modify it, enhance it, learn from it, and can even add their own code so all their important code is in one convenient place. Code Warehouse is multi-user ready, which means that an organization's entire development team can share a central code library and benefit from code that is already written and tested. The results? Developers aren't writing code that already exists, and new developers are brought up-to-speed faster without having to hassle others on the team!
Software Information
System Requirements
Version:
2.9.0

Windows 7/2000/XP/2003/2008/Vista
Microsoft .NET Framework 2.0 or above
Supports SQL Server 2000/2005/2008
Supports SQL Server Compact Edition
Supports MSDE, MySQL, Microsoft Access

File Size:
3.10 MB
License:
Free to try, $71.96 to buy
Screenshot:
View Screenshot
Rating :
Code Warehouse Functions:
The Best Code Manager
Code Warehouse is the best code manager for developers, teams and enterprises. It allows you to manage your own code and share knowledge within a team by using the fully searchable code library. Code Warehouse provides a full-featured standalone Code Manager.
Helpful to all developers
Every developer will benefit from using Code Warehouse.
Share Your Entire Team's Knowledge
Because Code Warehouse is completely multi-user, every member of your development team can share in each other's knowledge and experience. As each individual adds code or content, it instantly becomes available to the entire team.
Use the Code Manager to:
View, edit, and delete existing code items.
Add new code items and code databases.
Perform advanced searches on code databases.
Export code to a file or to the clipboard.
Manage Your Knowledge
You can even use Code Warehouse to store your own code in one centralized, searchable location. No more rewriting code, or digging through old projects to find it—it's all in one place! And because Code Warehouse is completely multi-user capable, your entire development team can collaborate to share code, tips, and ideas.
Code Manager
The standalone Code Manager makes it easy to find, organize, edit, and manage code. The Code Warehouse Code Manager is a complete code and knowledge management solution for developers.
Enhanced Code Display
Code is now displayed in a much richer interface, with collapsible regions and syntax highlighting for HTML, XML, ASP.NET code and etc. New right-click shortcuts are available to comment or uncomment code, indent or outdent lines, and more.
RELATED SOFTWARE DOWNLOADS FOR CODE WAREHOUSE