BluEasy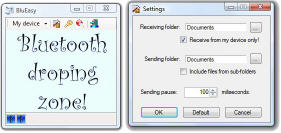 Receive & send files from mobile phone to pc, and back, easiest possible way!
BluEasy is a professional piece of software designed to help you send files from your Bluetooth-enabled mobile phone to PC, with no action on the PC side.
Just drag-drop files into Bluetooth Dropping Zone. Receiving is made automatically, no user interaction needed on PC side! Ordering files on PocketPC-s!

Download Trial 452 KB
Software Information
System Requirements
Version:
1.0

Windows 8/7/XP/Vista
Hardware: Pentium II class processor
Microsoft .NET Framework v2.0 or later
Bluetooth dongle (Microsoft driver)
Mobile phone with bluetooth connection

File Size:
452 KB
License:
Free to try
Screenshot:
View Screenshot
Rating :
Key Features of BluEasy:
Receiving:
Receive files from your only, or all devices in range!
Supported phones:
Any with Bluetooth available (including PDA, pc-s,...)
Connection types:
Bluetooth dongles with Microsoft working drivers only!
My device:
First you must set your default device (that will receive files)
Sending:
Send files to your device, simply by dragging it, and dropping into BluEasy form field!
Settings:
Choose your receiving folder. All files you send with your mobile phone will be saved into that folder.
Choose to receive files from your device only, or from any.
Select your sending folder (operatable only if you use PDA version). All files from this folder will be available for downloading from your PDA.
Include all sub-folders also, not only your main sending folder.
Set sending pause. That pause will, in fact, be time to wait before sending another file to your mobile phone.
Ordering files:
Special feature: order file(s) you want by using PDA version. Easy select file(s), and click "Download" button.
Easy as that!
In a few seconds you should receive all files to your phone...
Bluetooth dongle initialization:
When you connect bluetooth dongle, BluEasy will automaticaly recognize that, and it will be ready for work. You will notice that by left bluetooth icon into status-bar. It will be changed into active one.
Starting the Program:
Download and install Microsoft Framework 2.0 (or later) from Microsoft web site
Install BluEasy server (PC version)
Connect bluetooth dongle (Microsoft stack) to PC
Run BluEasy
Check if you started bluetooth on your mobile phone
Click My device-Not set yet
Find your mobile phone
Was it a success?
Now you can, on World easiest way, send files from PC to mobile phone, and back!!! Just drag-drop file into "Bluetooth droping zone"




RELATED SOFTWARE DOWNLOADS FOR BLUEASY