AyaNova - work order & service management software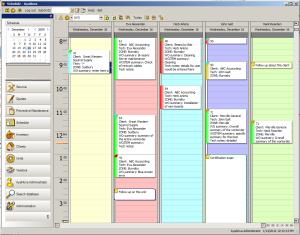 Everyone knows service management software is a good idea - so why are so many of them expensive and complicated?
AyaNova software is affordable, networkable, and easy-to-use service management and work order software for Windows that improves productivity and simplifies management and delivery of first class customer service.
AyaNova work order and service management software is a very simple, powerful and inexpensive program for managing your service and repair business no matter what size.
Manage all aspects of service including automated work orders, dispatching, searchable knowledgebase, scheduling, preventive maintenance, management reports, customer equipment tracking, QuickBooks integration, web browser interface and much more with AyaNova service management and work order software. With AyaNova's simple and familiar interface and countless time saving shortcuts you will find AyaNova a breath of fresh air compared to other work order software programs.
AyaNova is in use by many different services industries including auto repair, computer service, plumbing, locksmith, alarm and security, HVAC, appliance repair, medical equipment repair, electronic repair, lawn care, property management, schools, municipal maintenance and many others.
Software Information
System Requirements
Version:
7.0.4.0

Windows XP, 2003, Vista, Windows 7 or Server 8
300 MHz processor or faster processor
256 MB RAM
Microsoft .Net Framework 4 pre-installed

File Size:
24.40 MB
License:
Free to try, $199.00 to buy
Screenshot:
View Screenshot
Rating :
AyaNova service management software Features:
Manage all your service from a one man service shop to a multi-branch enterprise. AyaNova service management software includes work orders, dispatching, scheduling, preventive maintenance, quotes, custom fields, equipment tracking, custom reports, QuickBooks or PeachTree interface, mobile & web browser interface, and much much more.
Affordable for any sized service business, Unlike other service management software, you only need to purchase licenses for those that you will actually be scheduling in AyaNova - your schedulable resources - such as technicians, engineers, or even equipment if that is what you schedule.
Install AyaNova on as many computers as you wish and have as many people as needed viewing and entering data. This means you don't need to purchase licenses for managers, sales people, dispatchers etc - only for your schedulable resources (i.e. technicians, engineers etc).
No recurring costs and support is always free!
Scheduling & Dispatch
Familiar Outlook style schedule screen which you can view, compare and edit by easy drag and drop any schedule date range you need whether single day, 5 days, week, month etc
Print out schedules and dispatches directly from the AyaNova service management software Schedule screen.
Assign schedules based on dispatch zone, skills, certificates or other settings
Block out unavailable time (vacations, holidays, personal appointments etc) and set reminders with the Schedule Marker feature.
Automatically remind your technicians of upcoming scheduled items through email, SMS or internal memo notifications.
Service Management
Record all the information for a service call including status at each stage, priority, service to be performed, scheduled users, tasks to perform, billable items (including labor, parts, travel, misc expenses, outside service, loan rentals) and more.
Support multi-activity tickets for ongoing projects and complex service work orders.
View previous service history easily with AyaNova service management software.
Access contract/billing information to determine required level of service.
Automatically apply pre-paid amounts against from service workorders to maintain an exact balance via Banked Service.
Save time with the Tasks feature and ensure all tasks completed.
Automatic notification of events relating to service workorders - service notification, close by date notification, status change notification, requested parts received, and more.
Asset Management
Get to the root of problems by viewing previous service history for an individual asset/unit including labor provided, parts used, warranty coverage information, meter readings, banked service, outside service performed (RMA, shipping, etc) and more.
Increase your revenue and your customer's satisfaction with automatically created recurring service workorders generated from a single Preventive Maintenance order.
Inventory management
Maintain an accurate count of inventory − too much in stock ties up collateral, too little results in customers waiting and service unable to be performed and possibly lost sales.
Track parts used in service, to be ordered, or on order via purchase order.
Assign inventory and track inventory flow with multiple warehouses and serialized parts.
Purchase order tracking to monitor all inventory ordered and received, that is also tied to part requests in workorders so you always know what workorder needs what parts.
Be immediately notified when a part requested to be ordered from within a workorder has been received into inventory.
Billing
Increase revenue by providing the ability for your customers to request service via just a web browser using WBI and view their invoices online.
Get paid faster by notifying your clients via email attachment detailing service and charges.
Customize or use as is the many existing sample report templates as an invoice to the customer showing full billable items and taxes.
Generate detailed financial reports for each customer.
Synchronize AyaNova service management software with either the optional add-on QuickBooks interface QBI or the optional add-on Peachtree interface PTI
Increase productivity
View customizable productivity reports on technician's billable hours, response times, and much more.
Always be aware of everything that is happening by receiving Automatic notifications, such as reminding technicians of a scheduled item upcoming or reminding yourself before a client's contract is expiring.
No wasted time or lost information by remote users on the road as they can now access and update the same live information as those back at the office see.
Localization
AyaNova includes four example locales - English, Spanish, French and German.
Customizable entry screen - Add custom fields and re-label fields as well as workorder entry form customizations for fields and/or for subsections.
Customizable reports - Use as is the included 75+ service management report templates or further customize or create your own report templates to report on data entered in AyaNova
Knowledgebase - All data entered into AyaNova is indexed on the fly and available to be searched immediately allowing for quick look up of previous entered information such as how a problem was resolved - saving time for your technicians and allowing them to solve issues faster.
Document management - Freely create and edit additional documentation via the Wiki feature that supports hyperlinks, can embed images, allows the user to attach documents and files (.doc, .xls, .pdf, .jpg, .gif, etc.) that are accessible by all users, and is searchable via the Search Database feature. Attach images and files to your work orders and equipment records using the Wiki feature
Automatic User Notifications - AyaNova users can subscribe to be notified of events via email or SMS text paging, via internal AyaNova popup memo including before a client's contract expires, before a scheduled service is due, when a workorder is overdue, when parts are received that are for a workorder, and more.
Automatic Client Notifications - Clients can be notified via email when a service request has been accepted, new service workorder created, when status of a workorder has changed, when a workorder has been completed (and received an attachment of the AyaNova workorder desired) and/or a follow up email after work has been completed to check in with them
Branch to Head Office Remote Access - Remote users in branch offices can access live data via the built in DataPortal feature at no extra cost
Regions Feature - If you schedule service for multiple offices, regions countries etc, but want each office's schedulable users to only see data pertaining to their region, but still allow management and dispatching to view all data
Log in security and feature rights - Each user requires a username and password to log in and is a member of a security group that dictates what rights they have to AyaNova features. Every data record maintains the user who created and the user who last modified for audit management control
Import / export - Import and export clients, parts and units from AyaNova service management software using the no charge utilities plus the optional add-ons. Export data via the reporting feature to CSV, XLS, Word, PDF
Additional optional add-ons that interface with Outlook, provide quick notification, and export data to an XLS file.
And much much more!
RELATED SOFTWARE DOWNLOADS FOR AyaNova