123 Sync Server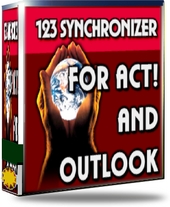 Synchronize ACT! with Outlook both 1-way or 2-way. It is a great product to sync data with PDA's, cell phones, iPhones since every cellular device interfaces with Outlook. In addition, sync notes/calendar/tasks and much more.
Special PDA enhancements include addition of names/phone numbers on the subject line for Calendar and Tasks to make it easy to find and process on PDAs. Also, anything added on the PDA/Outlook is also synched back.
123 Synchronizer for ACT! and Outlook takes less that 2 minutes to setup. Top-of-the-line duplicate checking makes this product easy to use on an existing Outlook and ACT! installation with a minimum (or null) incidence of duplicate outlook items (contacts/calendar/tasks).
You can either synchronize manually or in the background, 123 Sync Server will keep both your ACT! and Outlook/Exchange contacts, calendar, tasks, emails (in Exchange), notes, and history in Sync.
Server Licenses are used to synchronize multiple ACT! and 123 Custom users to multiple Outlook/Exchange folders from the 123 Sync Interface.
Software Information
System Requirements
Version:
14.1

Windows 7/XP/Vista/2000
100 MHz Pentium or better
64 MB RAM (recommended)

File Size:
71.7 MB
License:
Free to try, $785.00 to buy
Screenshot:
View Screenshot
Rating :
Key Features of 123 Sync Server for ACT! and Exchange/Outlook:
Sync Contacts, Calendar, Tasks and Emails to/from Outlook, Exchange or Office 365.
Smartphone Reset Detection. 123 Sync Server prevents full-scale deletions of Contacts and Activities resulting from reset operations on Exchange/Outlook or Smartphones. Keep your data safe!
Synchronize ACT! with Outlook and/or Exchange. You can either synchronize manually or in the background, 123 Sync Server will keep both your ACT! and Outlook/Exchange contacts, calendar, tasks, emails (in Exchange), notes, and history in Sync.
Unparalleled Speed. So you used to wait 15 minutes to sync your data with Outlook/Exchange. No more! Our expert synchronizer will reduce those long wait times to a matter of seconds!
Full Support of Recurring Activities Sync. Recurring activities, including cleared, erased and modified are fully supported for sync both from and to Outlook/Exchange.
Multi-User Sync. Whether you sync an activity from 1 user or multiple users, 123 Sync keeps track of where the activity goes.
Emails in Exchange. Emails (Inbox and Sent Items) in Exchange are synched back into ACT! as history items and their contents are the history details. The email is attached to the history item
Enhanced Exchange Server Capabilities:
Run as a client using Outlook to access multiple Exchange mailboxes through the same interface.
Match ACT! users to Outlook/Exchange mailboxes on the client or server configurations.
Create Custom Users that access independent databases and Outlook/Exchange folders.
Install on the Exchange server and access the user's contact/tasks/calendar folders without Outlook being installed.
Connect directly with Exchange via the server name and the mailbox. No Outlook Needed!

Awesome Outlook Client Capabilities. Don't want (or can't) access Exchange directly, just use Outlook as your gateway. No problem!
Multi-Exchange Configuration Support. Whether you are running Exchange in your own network or remotely, 123 Synchronizer 2011 works with Microsoft's Mapi interface to establish a reliable and secure connection.
Unmatched Outlook and Exchange Folder Management: Map sets of Outlook/Exchange folders to individual users
Single/Multiple Client-Side configuration. Run the software on your PC/Laptop through Outlook.
Server-Multi-User Configuration. Run the software as the centerpiece of synchronization between ACT! and Outlook or Exchange.
Reverse Sync Commands. Send commands via the Calendar/Tasks body text and instruct ACT! to clear the calendar item and create a history entry for the calendar.
Synchronization of Notes/History to the Contact's Body Text
Background and Foreground Processing. Setup the software to run in the background without any user intervention or without being logged in to the server (great for Exchange).
Map User defined ACT! fields into Contact Fields and vice versa. Unlimited user fields mapping capabilities from ACT! to Contacts and back. Remember, read-only user defined fields cannot be mapped to be updated.
Unparalleled duplicate prevention mechanism! Sync with an existing ACT! database with an existing Outlook/Exchange Contacts, Calendar and Tasks folder and have no duplicates!
Customizable FileAs field in Outlook/Exchange so that you can create contacts with any FileAs field as you see fit.
Secondary Contacts. Add all the secondary contacts to the Contact's Body Text for easy access and retrieval.
What Data Can you bring over to and from Outlook/Exchange?
All your Standard and Custom ACT! Fields.
ACT! Activities Colors/Types to Outlook Calendar/Tasks Categories
All Activity Ownership into the Contact Body Text.
All Secondary Contact Data
All Notes and History into the Contact's Body Text of the contacts.
All Group Membership into Contact Categories
Contact details, specific fields, history, notes and much more into the Calendar Body Text for easy retrieval and reference.
Exchange Emails are synched back into ACT! as history items.
and much, much more...
RELATED SOFTWARE DOWNLOADS FOR 123 Sync Server for ACT! and Exchange/Outlook