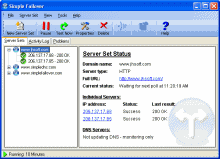 Simple Failover

"Simple Failover" is a new software based failover solution.
The concept really is simple; it continuously monitors your servers to find out which are up and which are down, and then it dynamically updates your DNS records accordingly so that your domain name always points to a functional server.
DNS records are updated directly via the DNS protocol (optionally using encrypted signatures for security), via WMI, via HTTP based dynamic IP updates, or via custom scripting.


Download Trial 9.37 MB
Software Information
System Requirements
Version:
1.21

Windows 9x/NT/2000/XP/2003
Pentium or similar processor
64MB RAM

File Size:
9.37 MB
License:
Free to try, $189.00 to buy
Screenshot:
View Screenshot
Rating:
Simple Failover Features:
Monitor and failover protect your servers
Simple Failover continuously monitors your servers and updates DNS accordingly, so that you domain name is always pointing to a functional server.
Web-servers (HTTP) as well as FTP, SMTP, POP3, IMAP, NNTP servers can be monitored for protocol specific responses, and other server types can be monitored via TCP connect or Ping.
Flexible DNS update methods
Simple Failover can update DNS servers utilizing 5 different methods:
1) Standard dynamic DNS updates via the DNS protocol.
2) TSIG signed dynamic DNS updates via the DNS protocol (cryptographic authentication).
3) Via WMI (Windows Management Instrumentation).
4) Via HTTP against HTTP based dynamic IP services.
5) Via scripting.
This means that it works with practically any DNS server running on any operating system.
Customizable e-mail notification
Simple Failover can send out e-mail notifications whenever a problem is detected.
A different e-mail recipient address can be defined for each server set monitored.
The subject and message body of the e-mail notification is user defined.
This can also be used to send pager or SMS message notifications (via appropriate gateway).
E-mail notification uses a built-in SMTP engine, and therefore does not have to depend on any local mail system.
Extensible through scripting
Various functions in Simple Failover can be extended through custom scripting using any scripting language supported by Windows Scripting Host (VBScript, JScript, Perl, etc.). This makes it possible to define your own logging procedures, store server availability statistics in a database, send custom problem notifications, update non-standard DNS servers, etc.
HTTP API interface
It is possible to create/update server sets, retrieve status information, and control most other functions in Simple Failover via HTTP. This opens the possibility of creating your own web-interface to Simple Failover, and/or integrating it with your existing hosting solutions. All data is exchanged in XML format, and the commands and data formats are described in detail in the documentation.
Configurable polling intervals and DNS TTL values
Simple Failover can be configured to perform the server monitoring at user defined intervals to match your needs.
DNS records TTL (time to live) values can be configured to control DNS caching.
Support for DNS Round Robin load balancing
Simple Failover can update DNS so that all functional servers for a domain name receives traffic on a rotating basis (utilizing DNS round robin), or it can update DNS so that only one server receives traffic (by server priority) if you have a primary server and one or more backup servers.
Intuitive and simple user interface
The main dialog is divided into three main tabs: Server Set tab, Activity Log tab, and Problems tab.
The Server Set tab consists of an explorer like list of the defined server sets on the left and associated details on the right.
The Activity Log tab is a live log of what is currently going on.
The Problem tab lists all current problems detected.

Right-click on server to ping
When a server appears to be down, for many, the first trouble shooting step is to open a command prompt and ping the server IP address. You can ping an individual server in Simple Failover simply by right-clicking on it in the Server Set explorer or in the Problem list, and selecting "Ping" from a popup menu. The resulting ping dialog gives you instant ping statistics, and continues pinging the server IP address until you close the dialog.
See what's going on behind the scenes - live
The Simple Failover "Activity Log tab" shows what is currently happening, and how the program reacts to the monitoring process in real time. Everything translated into human readable text.
If you are trying to learn how Simple Failover works, this can be a real helper.
Online Problem Knowledge Base
Any problem detected by Simple Failover is listed in the "Problem" tab of the main dialog.
When you select a problem in this list and click the "Online Problem KB" button, an Internet browser window is opened to search our online database for information on this particular problem event.
Run as Windows Service
You can optionally run Simple Failover as a Windows Service so that it continues protecting your servers without anyone being logged into the computer it is running on.
Windows Event Log
Events (such as detected servers problems) can be sent to the Windows Event Log.
This makes it possible to take advantage of features (such as notification) of the Windows Event Log service as well as other tools built to work with this.
Balloon tip notification
Simple Failover can display a balloon tip notification from the system tray to attract attention to important events - for example when a server is not responding.
Configuration file in XML-format
Simple Failover uses one configuration file "sfo.config.xml" to store all the programs options and server sets definitions.
This makes it easy to interface with Simple Failover from other software etc.
Flexible support system
The help menu / Support file function generates a text file with extended support information for precise and personal diagnostics by the support staff.
Comprehensive documentation
The user manual, available both as a standard help file and a paper version (PDF file formatted specifically for printing), contains thorough explanations of both general concepts and individual configuration options.
Several sample scenarios and walkthroughs are also included.
You can also get specific help for any data entry fields in the software simply by pressing the F1 key.
RFC's supported
RFC821 SMTP Simple Mail Transfer Protocol
RFC959 FTP File Transfer Protocol
RFC977 NNTP Network News Transfer Protocol
RFC1035 Domain names - implementation and specification
RFC1939 POP3 Post Office Protocol ?Version 3
RFC1945 HTTP Hypertext Transfer Protocol - HTTP/1.0
RFC2136 DNS Update Dynamic Updates in the Domain Name System (DNS UPDATE)
RFC2845 TSIG Secret Key Transaction Authentication for DNS (TSIG)
RFC3501 IMAP Internet Message Access Protocol - Version 4rev1
More Screenshots - Click each image to enlarge!