SG Truco for Pocket PC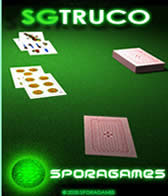 SG Truco is a version of the South American card game Truco for two players developed by SporaGames for Pocket PC. In this variant based on the Argentine version it's you against the computer. In Truco both strategy and bluffing are at least as important as luck. If you are new to Truco the assistant will guide you in every step of the game until you master it, in addition you have a detailed explanation in the manual, plus a complete strategy guide.





This Software is not available Now.
Software Information
System Requirements
Version:
1.0
File Size:
839 KB
License:
Free to try, $9.95 to buy
Rating :
Game Features of SG Truco for Pocket PC:
Available in English or Spanish.
Free trial version, fully functional.
An assistant will guide you at each instance of the game, fundamental for the novice player.
In-game help explaining all the variants of the game.
Complete statistics of every aspect of the game (actual and historic)
Selectable card backs .
Objective of the game can be configured to 12, 15, 24 or 30 points.
You can play with or without flower.
Every bet or response of the Pocket PC apart from the console of the game will be delivered by a masculine or feminine voice (selectable).
Compatible Device List
Acer n10
Acer n20
Acer n20w
Acer n30
Asus MyPal A620
Asus MyPal A620BT
Asus MyPal A716
Asus MyPal A730
Audiovox 2032SP
Audiovox 5050
Audiovox Maestro PDA1032
Audiovox PDA1032C
Audiovox Thera
Audiovox PPC 4100
Audiovox PPC 6600
Audiovox PPC 6601
Audiovox XV 6600
Audiovox VX 6601
Casio E-200
Dell Axim X3
Dell Axim X30
Dell Axim X3i
Dell Axim X5
Dell Axim X50
Dell Axim X50v
E-TEN P600
E-TEN Pocket PC P700
Fujitsu Siemens Pocket Loox
HP iPAQ h3700 Series
HP iPAQ h3800 Series
HP iPAQ 3950
HP iPAQ 3970
HP iPAQ h1910/1920
HP iPAQ h1915
HP iPAQ h1930/1940/1945
HP iPAQ h2210/2215
HP iPAQ h3900 Series
HP iPAQ h4150/4155
HP iPAQ h4350
HP iPAQ h4350/4355
HP iPAQ h5100/5400/5500
HP iPAQ h5450/5455
HP iPAQ h5500/5555
HP iPAQ h6315
HP iPAQ h6320
HP iPAQ h6325
HP iPAQ h6340
HP iPAQ hx2400 Series
HP iPAQ hx2700 Series
HP iPAQ hx4700 Series
HP iPAQ hx4705 Series
HP iPAQ rx3115
HP iPAQ rx3415
HP iPAQ rx3715
HP iPAQ rz1710
HP iPAQ rz1715
HP Jornada 560 Series
HP Jornada 928
I-Mate JAM
I-Mate PDA2K
I-Mate Pocket PC
Mio 168
Mio 338
Mio 339
Mio 528
Mio 558
NEC MobilePro P300
O2 xda II
O2 xda II mini
O2 xda IIi
O2 xda IIs
Orange SPV M1000
Orange SPV M2000
Packard Bell PocketGear 2030
Packard Bell PocketGear 3025
Qtek 2020
Qtek 9090
Qtek S100
RoverPC P1
RoverPC P3
RoverPC P4
RoverPC P5
RoverPC P7
Samsung i730
Samsung i830
Samsung M400/M4000
Samsung SPH-i700
Siemens SX66
T-Mobile MDA Compact
T-Mobile MDA II
T-Mobile MDA III
Toshiba 2032
Toshiba e310
Toshiba e330 Series
Toshiba e350 Series
Toshiba e400/e405
Toshiba e550 Series
Toshiba e570
Toshiba e740
Toshiba e750 Series
Toshiba e800/e805
Toshiba Genio-e
V35
ViewSonic Pocket PC V35
ViewSonic Pocket PC V36
ViewSonic Pocket PC V37
Zayo
More Screenshots - Click each image to enlarge!