Roleplaying Assistant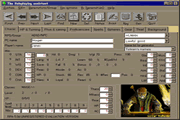 The roleplaying assistant(RPA) is a computer gaming aid for Role playing games.
This character generator is compatible with the following role playing game systems:

Advanced Dungeons and Dragons(2nd, 3rd and 3.5 edition),
Star wars RPG (D6)
Star wars RPG (D20, in beta)
D20 Modern RPG
Cyberpunk 2020 RPG
Alternity RPG
Rolemaster (2n edition)
In Nomine Satanis Magna veritas (French version by CROC).
DragonballZ(in beta) .




Software Information
System Requirements
Genre:
Adventure

Windows 98/2000/ME/XP
Microsoft DirectX 7
Pentium II 800MHz processor

File Size:
37.5 MB
License:
Free to try, $39.00 to buy
Rating :


RPA also gives you access to a full set of gaming tools usable for ANY role playing game systems:
A Name generator with many name styles (SF, Tolkien, Japanese, etc) and a list of 6000 real names for your RPG characters.
Spell book generator (with complete spell descriptions). Keeps tracks of your spells for you.
Monster and encounter generator
Weather generator, gives you weather forecast for the days to come
Party generator, creates a whole party in a single click
Dice roller to automate complex dice throwing
Fractal world generator, create maps of entire planets
Dungeon mapper, create graphical maps for your dungeons
The Dungeon master report will print a summary of the characters for you
A complete background generator, get a detailed description of your character
A Treasure generator, available from the randomizer module. Will generate a treasure based on AD&D 3rd edition rules.
The Randomizer module, will generate about anything you can think of and you can customize it the way you want.
Modify the reports, the report generator is a powerful tool enabling you to customize the output of ANY report produced by RPA.

Game Features:
Templates available to print blank equipment, background, time tracking and many other sheets
Customize the database definition sets to add your own new worlds, skills, gear, spells, languages, races, classes, professions, etc.
Import and Export your characters, exchange them via Email for your PEBM campaigns. A single click can email a character.
Customize the reports to your needs, create your own character sheet.