Rebel 12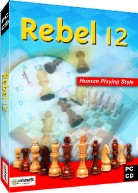 This is the long awaited windows version of Ed Schröders Rebel program. Rebel 12 comes with the ChessPartner interface. The chess engine is programmed using the so called Winboard Protocol, this makes it possible to use the engine under other interfaces although it works best under the ChessPartner interface.
Rebel is one of the strongest and most complete chess programs in the world and absolute champion providing the maximum information on your screen, the visualization of the internal thinking process of the chess engine (Rebel's brain), more below.
Rebel is famous for its playing strength and is feared among the world top chess players, Rebel for example never lost a serious match against the top chess players of the world. Rebel until now played 4 chess matches against Super GM Arthur Yusupov (1997), Super GM Vishy Anand (1998), GM John van der Wiel (2001) and recently against top player Loek van Wely (2002) and only Super GM Loek van Wely was able to hold Rebel on a 2-2 score, Rebel won the other 3 matches. No other chess program achieved that result!



Order Now $39.00 USD
Software Information
System Requirements
Genre:
Strategy

Windows 98/2000/ME/XP/Vista
Pentium II
64 MB RAM

License:
Free to try, $39.00 to buy
Rating :
Key Features of Rebel 12 :
Full book support, other opening books (even the user-books) can be used. The opening repertoire can be viewed and saved to a textfile.
Easy creating of EPD and PGN databases.
Using personalities (or styles).
Full EOC support.
Limited Rebel database support, import PGN, export PGN, Search Position. The latter is handy for opening study, the current position on the board is searched and games that match are reported and stored into a PGN file. Also the score and percentage are good indicators if the opening you are trying has a good perspective, see the picture.
Extended Learner, this is something new similar to (DOS) CAT approach only better. When the option is active it will add large parts of games that went well to the opening book or use the data for a faster calculation next times.
Another fine new feature is that Rebel 12 automatically will store every game it plays in the file allgames.pgn