Privacy Defender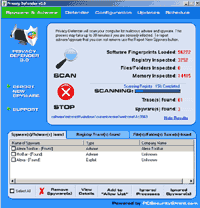 Spyware and adware are small files that attached to almost anything that you may download and are designed to track where you go and what you view on the Internet … they then serve up popup advertisements. Some spyware and adware will even steal your personal information and credit card numbers.
Advertisers, web designers, and even the governments are using the internet to spy on you. Downloaded software, Web bugs, and cookies target you while you're online, watching and recording your actions and turning that information over to eager advertisers. These Spy-Ware technologies gather personal information, such as your IP address and shopping habits, without your knowledge or consent.
Privacy Defender 3 detects and deletes thousands of adwares and spywares and provides weekly updates of all the latest spyware and adwares. Privacy Defender includes over 13,000 Adware Spyware Removal Signatures and 96,000 Traceprints and today you can get a Free Download to scan your computer for adware and spyware.




Software Information
System Requirements
Version:
3.0

Windows 98/ME/NT/2000/XP/Vista
Pentium 86 Family
Internet Explorer 5.1 or higher
AOL 5.0 or higher
64MB RAM

File Size:
35.7 KB
License:
Free to try, $29.99 to buy
Screenshot:
View Screenshot
Rating:
Privacy Defender Features:
Spyware - Adware Management:


Scans your hard drive, memory and registry for malicious ad/spy-ware programs
FREE technical support and advanced online FAQ system.
Homepage protector helps prevent your homepage from getting hijacked by adware.
"Memory Shield Alert" NEW feature alerts you when new spy/ad ware programs are run.
Prevents downloading of suspicious active X programs.
Fully Configurable - Customize to meet your needs.
Automatically scans, detects and removes malicious ad/spy-ware.
Free Adware Spyware Removal signature updates for 1 year!

Defender Process Management:


Protects your computer around the clock from new adware & spyware.
Notifies you when suspicious processes start running on your machine.
Gives you clear alerts of all processes accessing the internet.
Allows for simply blocking or allowing of processes.
Fully Configurable - Customize to meet your needs.
Easy to use and edit on a daily basis.

Configuration:


Allows you to set depth of scanning process - memory, harddrives and cookies.
Set to Run at Start-up and Minimize at Start-up.
Set startup notifications.
Set and protect your Home Page.
Report New Adware and Spyware.

Updates and Scheduling:


1 Year of Free signature and fingerprint updates.
Over 13,000 (as of 10/1/2004) Spyware Signatures - this protects your computer from thousand of annoying ad/spyware programs.
Over 96,000 Fingerprints (as of 10/1/2004) - tracks down all adware and spyware components and their footprints.
Schedule automatic scans and updates by day, time, etc.
RELATED ANTISPY SOFTWARE DOWNLOADS