Ashampoo PowerUp XP Platinum 2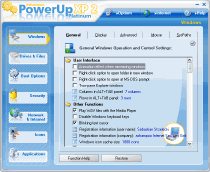 Ashampoo PowerUp XP Platinum 2 is the successor to Ashampoo PowerUP XP Platinum. It includes all the powerful features that made its predecessor the favorite tuning tool of many Windows users. And it adds some terrific and unique new features that give you more control and makes it even easier to use. Ashampoo PowerUp XP Platinum 2 takes the hassle out of tuning up your Windows computer. One click is all it takes to optimize your computer for office work, gaming, media editing or maximum resources (memory etc). Now you can switch your setup in seconds depending on what you are doing. Of course it includes several powerful new tools that give you even more control over your computer.




Software Information
System Requirements
Version:
2.10

Windows NT/2000/XP
Pentium processor
64MB RAM

File Size:
4.12 MB
License:
Free to try, $49.99 to buy
Screenshot:
View Screenshot
Rating:
Ashampoo PowerUp XP Features:
Fine-tune your operating system:
Ashampoo PowerUp XP is a convenient tool for fine-tuning your Windows NT4, 2000 and XP configuration to suit your precise needs and wishes. It gives you direct access to many frequently-required settings and parameters, enabling you to make your operating system behave the way you want.
Some of the settings you can change with Ashampoo PowerUp XP are available in Windows, but you will find that accessing them in Ashampoo PowerUp XP is much quicker and more convenient because they are all available in a single location, with the same intuitive procedure for changing all the parameters.
Control Windows XP security and privacy settings:
Windows XP is a great operating system but there has been a lot of controversy about a number of new features that appear to compromise user security at least to some degree, in some situations. Some critics have even accused Microsoft of installing "spyware" that snoops out your system and sends reports about you to nobody knows where. We wouldn't go that far, but we do believe that you, the user, should have full control over what your system does and does not do. The special XP Security tab does just this: It shows you all the security and privacy relevant features of XP that have been criticized and allows you to switch them on and off.
Access "secret" Windows functions:
Many settings supported by Ashampoo PowerUp XP are not available directly in Windows at all - to change them yourself you would have to edit the Windows registry directly, which is usually a bad idea, in addition to being inconvenient and requiring a lot of expert knowledge. Ashampoo PowerUp XP thus enables you to give your system the sort of tune-up that is normally only possible for very experienced users.
Configure Microsoft Office:
Ashampoo PowerUp XP also enables you to set a number of useful settings that control the behavior of Microsoft Office components.
Save and reload entire setting configurations in one easy operation:
Ashampoo PowerUp XP supports 'profile' files, which make it possible to store entire Windows function configurations and reload them in a single simple operation. This is extremely useful if you often change Windows settings for performing different tasks, or when different people work at your computer - for example when you wish to restrict access to an entire set of system functions. With profiles you can do this temporarily with a couple of clicks, and then reactivate your normal settings just as quickly.
Add your own functions with the unique Function Editor:
Ashampoo PowerUp XP actually consists of two programs (or three if you include the Language Editor): the program itself, which provides the controls for editing and tuning Windows functions and settings, and the brand-new Function Editor, with which you can both edit the existing functions in the function database and add new functions of your own.
This new module turns the program into an extremely powerful tool for advanced users, as it lets you design your own customized Windows tuning functions, which you can then activate and deactivate just as easily as all the other functions provided by Ashampoo PowerUp XP. And, of course, you can also include your own functions in PowerUp XP profiles, just the same as the program's own integrated functions.
Language Editor:
The new Language Editor enables you to edit all the texts displayed in the program, including interface texts, the context-sensitive help popup texts, dialogs, error messages etc. You can use this to translate the program into your own language, or to change texts to suit your own personal needs.
IP Spam Blocker:
The message service is activated by default on Windows NT, 2000 and Windows XP. This little tool enables you to just switch off the messaging service, getting rid of these annoying advertising messages forever!