Net Chess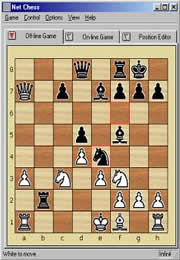 With Net Chess you can play chess with friends and family on the same computer, via email or online over the Internet or local network. You can choose between different computer opponents (chess robots), skill levels and utilize various chess engines (Mustang chess engine by Alexey Korneychuk is included). And it does not matter if you are a beginner, intermediate or professional player. With Net Chess you can learn, practice and master your chess playing skills.

Over the years, Net Chess has gained popularity among the computer chess fans and respect from the experts. The main reason for this is its simplicity, which is important with complicated things like the game of chess. You can quickly setup and initiate the game session, whether online or offline, with computer or human opponent. Moreover, you can play several chess games simultaneously, for example, one online against the human opponent and one offline against the computer. Computer chess fans will surly appreciate the fact that Net Chess supports all WinBoard compatible chess engines - there are several ten of those with different skill levels and most of them are free.




Software Information
System Requirements
Version:
6.02

Windows 8/7/XP/Vista
DirectX 7
Pentium II
64 MB RAM
10 MB disk space

Genre:
Board
File Size:
899 KB
License:
Free to try, $14.95 to buy
Rating :
Main Features of Net Chess:
Net Chess is very "option rich" and contains a number of great chess features. It provides time control (conventional chess clock, incremental clock and special modes) and ability to limit chess engine decision making time without limiting yours. The game supports click-and-drag or click-and-click move options, board rotation and interactive move list. You can copy and paste the game with the help of clipboard, you can save it (with your comments, if necessary) in PGN/FEN format. It means that you can play via e-mail with other chess fans all over the world who have chess software that supports these formats - your opponents don't have to buy Net Chess and your don't have to buy software they use for playing chess.
Other convenient options are animation of the match, highlighting last move, IP address detection, several boards to choose from, different sound and color schemes, customizable cursors, and so on.
More Screenshot