Natural Fat Loss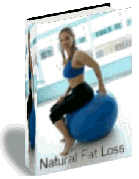 Knowing your body composition can help you formulate an exercise program and set sensible fitness goals. Resolving to turn fat into muscle (and not simply to lose weight) motivates you to work on fat-burning aerobic activities and anaerobic muscle-building activities as well.
Either way, you are changing your overall body composition from less fat to more muscle.
The number of fat cells you have was determined by the time you finished growing and the number of fat cells you have is fixed. Either you keep the fat cells full or you keep them empty. (This theory is being tested for other ages and sexes such as pregnant women who may be able to make more fat cells during the last three months of a pregnancy.) Ideally, you want to have a small number of fat cells.
A fat cell has an unlimited ability to increase in size. Your body is always storing fat in preparation for a famine, which in industrialized countries almost never happens. As fat cells increase in size, you may notice a rippling effect on the surface of your skin. This process can be reduced with proper exercise. Choose an exercise you like so that you will stick with exercising regularly. With exercise you can decrease your percent of body fat and increase your percent of muscle.
Most men have 18 to 20% body fat and most women have between 22 and 24% body fat.
Remember that your body benefits from regular (3 to 5 times a week at 30 to 60 minutes per day) exercise.
Learn how to get and maintain your ideal weight by following some simple rules which include healthy lifestyle, food combination and fitness. Download Natural Fat Loss, a free ebook.


Download Trial 0.66 MB
Software Information
System Requirements
Version:
1.2

Windows 9x/Me/NT/2000/XP
Pentium or similar processor
64MB RAM

File Size:
0.66 MB
License:
Freeware
Download:
Click to Download
Rating: