MP3 Frame Editor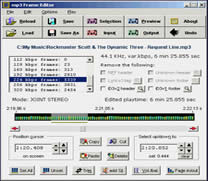 mp3 Frame Editor - Finally, a real mp3 editor. Not just a tag editor or silence trimmer. This editor really lets you edit mp3 files without decoding and encoding them (loss of quality). If you collect mp3's from the unreliable sources such as the web you must have a utility like this to fix them.
Do your mp3's have too high or low volume, improper balance, or large parts of silence or noise at ends? Yes, you could edit them using one of many wav editing tools, but in the process of decoding and encoding back to mp3 you lose sound quality. Well, perhaps your troubles are over now, since MP3 FRAME EDITOR edits mp3 files WITHOUT decompression and compression. Of course, this editor doesn't have fancy function like other sounds editing programs, but it enables you to do basic operations, sufficient for great majority of users.
What can this program do? It lets you copy, paste, cut & delete blocks inside mp3 file. It also lets you adjust VOLUME & BALANCE of the whole file or selected parts. It has fade in, fade out, and insert silence functions. You can also use this editor to view and remove (not edit) id3v1 and id3v2 mp3 tags.




Software Information
System Requirements
Version:
v3.02

Windows 8/7/XP/Vista
A pentium 2 (or better) with at least 64 Mb

File Size:
3.63 MB
License:
Free to try, $15.00 to buy
Screenshot:
View Screenshot
Rating :


NOTE: by registering mp3 Frame Editor, you also get two other handy mp3 utilities: mp3 Frame Remover (simplified version of mp3 Frame Editor used for trimming mp3 files) and mp3 List Maker De Luhe (an advanced tool for creating list of your mp3's; scan, export, import, compare, find duplicates, and many more).