MovieJack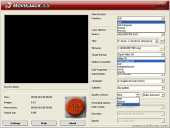 MovieJack is an extremely powerful DVD ripper and copier that allows you to create dvd.
MovieJack rips the entire contents of a PAL or NTSC-DVD including sound track (Dolby Surround or stereo) and absolutely fast The TV standard is set automatically, so that you do not need to select PAL or NTSC manually. MovieJack allows to select the language track to be ripped. MovieJack recognises and rips subtitles.MovieJack converts video material on-the-fly without bothering the user regarding the respective specifications Bit Rate determination: When backing up on CD-R, MovieJack allows you to adjust bit rates (e.g. to fit a movie exactly on one blank media). MovieJack creates Video CDs (MPEG-1), Super Video CDs (MPEG-2) and XVCDs / XSVCDs (Video and Super Video CDs outside the standards) as well as CDs containing AVI files (MPEG-4) including also DivX CDs. MovieJack supports XviD, a video codec which popular for internet videos and Ogg Vorbis (to play that format on a television set you need a compatible player). MovieJack allows users to create handheld movies (very small ripped videos for PocketPCs and handheld memory cards).MovieJack creates fantastic Video CDs from the ripped movies which can be played on Video CD and CD-I players with video modules and DVD-ROM drives as well as many DVD players. MovieJack automatically splits (if needed) the entire video material generated from a DVD and records it on several blank CDs. MovieJack is completely transparent and easy to handle. The record module of the program works with practically any standalone CD and DVD player available on the market.MovieJack offers powerful copy routines, which are easily controllable through a smart and clear user interface. After inserting a source DVD, MovieJack will read it and automatically offer its different movie tracks. You can e.g. specify movie format, audio track and subtitles. Once started, MovieJack rips exactly this data from the total data stream of the DVD and converts it into MPEG-1, MPEG-2 or MPEG-4 data.

Order Now $29.90 USD
Software Information
System Requirements
Version:
3.5

Windows 98/ME/NT/2000/XP
Pentium II CPU
64 MB RAM

File Size:
7.66 MB
License:
Free to try, $29.90 to buy
Screenshot:
View Screenshot
Rating :
Key Features of MovieJack :
Supports ripping of Video-DVDs
Video-CD ripping faster than realtime in "near DVD" quality!
Supports MPEG-1 (Video-CD), MPEG-2 (Super Video-CD) and MPEG-4 (AVI, including DivX© und XviD, original codecs need to be installed)
Supports X-VCD and X-SVCD: Almost DVD-quality on a Video-CD or Super-Video-CD!
Index markers for SVCD and VCD
Supports PAL and NTSC automatically!
Ripps to the proper format without user interaction, for example fullscreen (4:3) or widescreen (16:9)!
Fully automatic detection of additional widescreen format. No more "Coneheads"!
Adjustable compression ratio and picture quality!
Automatic compression ratio adjustment based on number and size of target media!
Supports Handheld-Movies for PDAs and the internet
Supports CD-R(W) up to 99 minutes
Supports Windows 98/ME/2000/XP
Available Languages: English, German. More languages coming soon.