Motion 2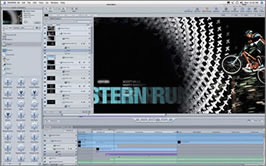 Motion 2, Apple's award-winning motion graphics software, offers the easiest way for artists and editors to animate text, movies and graphics for film, video or DVD menus.

Motion 2 is Apple's award-winning professional motion graphics application offering breakthrough functionality and seamless workflow to artists, editors and independent producers. Whether you're animating broadcast graphics, corporate presentations, feature film titles, or DVD menus, you'll find an original, fresh toolset.

The easiest way for artists and editors to animate text and graphics for DVD motion menus, video or film, Motion 2 lets you design in real time and take advantage of GPU acceleration — at true film quality 16-bit and 32-bit float - when it comes time to render your files. That's an industry first.



Download Trial 102 MB
Software Information
System Requirements
Version:
2.0

Mac OS X v10.3.9 or later
867MHz or faster PowerPC G4 or G5 processor
512MB of RAM
QuickTime 7 or later

File Size:
102 MB
License:
Free to try, $299.00 to buy
Rating:
Benefits:
Real-time design with GPU-accelerated film-quality rendering.
Motion 2 maximizes the hardware and architecture of the Power Mac G5 and Mac OS X to deliver real-time responsiveness and interactivity. Play back, move and resize video layers interactively. Or watch filters, particles and title animations come to life instantly. When you're ready to output, rendering is accelerated using the Power Mac G5's GPU hardware at 8-, 16-bit float, or full 32-bit float film quality.
Easiest way to animate graphics, text and video layers.
With Behaviors, you can create a wide range of natural simulations or random movement without complicated scripting. And you can make modifications at any time simply by moving a slider or dragging a direction arrow in the dashboard. The new MIDI parameter behavior lets you play motion graphics like a musical instrument for spontaneous animation "performances." For frame-by-frame control and precision, use the powerful Bezier-style Keyframe Editor where keyframed animation curves can be saved for re-use in other projects.
Breakthrough filters and effects.
Easily create mesmerizing repetitive design elements with Replicator, a new automated tool for animating waves of repeating movies or graphics. Quickly apply sparkles, fire and fog with the particle generator, which now features over 150 presets. Or you can create custom particles like a fountain of letters with a single mouse click. Motion 2 includes over 115 GPU-accelerated filter effects from basics like 3D rotation and Primatte RT keying to unique stylize filters like Underwater and Insect Eye. And third parties can write unique filter effects for Motion 2 that take full advantage of real-time GPU-accelerated performance.
Basic Features:
Design in Real TIme
Optimized for the Power Mac G5 and Mac OS X v10.4 "Tiger," Motion 2 sets a new mark for desktop responsiveness and interactivity, letting you play back, move and resize video layers interactively; watch filters, particles and title animations spring instantly to life; and render output quickly thanks to built-in GPU acceleration at 8-bit, 16-bit or 32-bit float film quality.

Animate Easily
With Motion 2, you can create even the most complicated motion graphics with ease. Just by dragging a customizable Behavior from the Motion Library and dropping it on type or graphics, you can create natural, fluid motion. Intuitive and interactive, Motion even lets you assign parameter behaviors to MIDI knobs and faders. Ever want to play an animation? Now's your chance.
Create Breakthrough Effects
With its arsenal of more than 500 filter effects, presets and parameters, Motion 2 lets you create unique and astounding motion graphics time and again. What's more, Motion provides new tools to make the job easy. And fun. Use the new Replicator, for example, to automatically animate mesmerizing waves of repeating movies or graphics. Or take advantage of the new FxPlug architecture and apply accelerated filter effects from third-party partners.


Work Intuitively
Palettes plaguing your productivity? Not with Motion 2. Its streamlined user interface allows you to focus on design and quickly access the assets and tools you need. The minute you need them. Use gestures to facilitate navigation. And with its support for MIDI devices, Motion 2 lets you play motion graphics like musical instruments, opening new creative possibilities.
Integrate Seamlessly
A first-class collaborator, Motion 2 plays very well with others. In fact, Motion gets along so splendidly with Adobe After Effects that you can drag and drop project files into the latter or launch Motion from within After Effects. Native HDV support also makes Motion a strong contributing member of Final Cut Studio, letting you access files directly from Final Cut Pro 5 with cuts and layer data, as well as drag project files directly into DVD Studio Pro 4 with loop points and transition markers.
Other Features:
16-bit float and 32-bit float rendering (requires Mac OS X v10.4 Tiger)
Replicator, a unique design tool for easily repeating and animating a single graphic, shape or movie along user defined patterns.

MIDI behavior can use any MIDI device to adjust filter settings, object transformations or trigger animation changes live.
Acceleration curve for the Motion Path behavior
New filters includes Basic 3D, Vignette and Insect Eye
Caustics and Membrane Generators
Over 50 new particle effects
Enhanced Keyframe recording and Keyframe editor
Auto-save with customizable settings
OpenEXR import and export