MaxSpace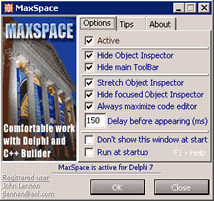 In Borland's Delphi and C++ Builder the "Object Inspector" limits the workspace at the left and the IDE ToolBar limits the workspace at the top. Therefore you are left with a very small space for form design and coding. You can't see the full-sized editing screen, you can't see all components at once in the complex forms, and you need to move the form for access to the ObjectInspector or to the main IDE ToolBar.

MaxSpace will solve all these problems. Its features list is short, but to the point. This program makes Borland's products more comfortable in use. It sets the IDE ToolBar and ObjectInspector into auto-hiding state, giving you unbelievable freedom to edit code and design forms. The whole screen is yours! But if you need the IDE ToolBar/ObjectInspector, you just move mouse pointer to the top or left edge of the screen where the Toolbar/ObjectInspector was hidden, and it appears immediately. It will only take a short time to get used to this new feature, but then you'll see, that your comfort and speed was dramatically increased. It's very, very simple to use, and it requires only having Delphi or CBuilder installed on your PC.

Also MaxSpace has an additional feature - "Quick project run". You can quickly compile opened project in Delphi/CBuilder and after compiling quickly run a compiled exe-file not under Delphi/CBuilder debugger, as you run it from Explorer or from any other file manager, independently from Delphi/CBuilder IDE. This command is available from MaxSpace menu in IDE or by pressing Shift+F9.




Software Information
System Requirements
Version:
4.2

Windows 9x/Me/NT/2000/XP
Delphi or CBuilder installed on your PC

File Size:
489 KB
License:
Free to try, $17.00 to buy
Rating:
Work demonstration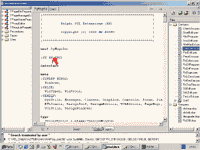 Key Features of MaxSpace :
MaxSpace is totally configurable. You indicate what you want to hide: the ObjectInspector, the ToolBar or both.


You can use MaxSpace as independent exe-file or you can integrate it with IDE so it starts with Delphi/CBuilder.


As an independent exe, MaxSpace supports all versions of Delphi/C++ Builder.
RELATED SOFTWARE DOWNLOADS FOR SMINTERNET SUITE FOR DELPHI/C++BUILDER