HTML Compression Tool - Compress HTML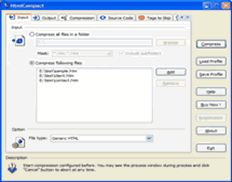 HTML Compact is a powerful HTML compression tool created for webmasters. Compress HTML Page Up to 80%. Its effective compression algorithm can reduce the size of your pages by as much as 80% while keeping the appearance of the page the same. When implemented, the documents will be uncompressed in the user's browser, delivering the page exactly how it looked before compression.
By using this HTML Compression Tool, You can Compress HTML Page Up to 80%. your web pages will become much smaller which results in faster load times, and you will save up both website bandwidth and disk space exceedingly.




Software Information
System Requirements
Version:
2.60

Windows 9x/Me/NT/2000/XP/2003
Pentium or similar processor
256 MB RAM

File Size:
751 KB
License:
Free to try, $29.95 to buy
Rating:
HTML Compact Features:
Compatibility with All Popular Web Browsers
HTML Compact retains your pages integrity so your compressed file looks identical to the original. It's compatible with all Java Script enabled browsers like Internet Explorer, Netscape Navigator and Opera.
Decrease file size without compromising the look of your pages
HTML Compact uses an optimized text compression algorithm to compress the source code of a HTML file. After compression, it replaces the original HTML text with packed binary code, and adds a tiny piece of java script code that instructs the browser to decompress the file. When loaded, the user's browser decompresses the document before renders the file. The result of this process is your compressed code appearing exactly the same as the original code on the user's browser.
Less time worrying about keeping HTML files small means more time to work on the code!
High Compression Ratio
With its powerful compression algorithm, HTML files will be compressed by 30% under normal conditions, sometimes reaching as much as 80% compression.
Wizard-Like User Interface with Tabs
Our step-by-step "tab style" wizard allows you to easily compress your HTML pages in several minutes. Easy to setup and easy to run, and no programming knowledge needed!
Flexible Compression Option
It compresses client-side parts of HTML files, SHTML files, ASP files, PHP files, JSP files and external java script files(.js) properly. You can compress either a single file, entire website or a file list at once, and you can make original page be overwritten with compressed one, copy compressed page to a certain directory or save compressed page as a new file.
Auto Backup
Ability to backup the original HTML files before compression so that you can always recover them at any time later.
Independent of Language
HTML Compact will properly encrypt your files no matter what character set you use. You may have texts in English, Chinese, Russian, Japanese or any other language.
Alternative Decoder Option
Decoder can either be placed into internal JavaScript file or be saved as external JavaScript file.
Powerful Partial Compression Capabilities
Exclude parts of the code from being compressed as you specified.
User Profile
Easily save your current set of protection options into user profile and quickly apply them later.
Command Line Support
Built-in command line support that provide you with the power to control HTML Compact without the graphical user interface.
Private HTML Comment Tags Support
Ability to understand a set of private HTML comment tags in original pages and follow the corresponding instructions during protection process.