GeekAlarm!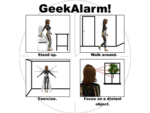 GeekAlarm! is a simple approach to helping prevent repetitive strain injury, carpel tunnel syndrome, and computer vision syndrome. Its purpose is to prompt (and enforce) a computer user to take periodic breaks, thereby reducing and helping to prevent repetitive patterns of computer use.
GeekAlarm! is a unique way for you to keep track of when you should take a break while using your computer. By taking breaks you can increase your productivity, reduce eye strain, and allay fatigue. GeekAlarm! has varying degrees of break enforcement including passive, medium, and aggressive enforcement. This helpful utility is a must have for anyone that uses a computer for long periods of time.
GeekAlarm's unique strength is in its simplicity.




Software Information
System Requirements
Version:
2.0

Windows 8/7/XP/Vista
Pentium or AMD processor
512 MB RAM

File Size:
1.03 MB
License:
Free to try, $19.95 to buy
Screenshot:
View Screenshot
Rating:
How does GeekAlarm! help prevent repetitive strain injury?
GeekAlarm! reminds you to take breaks (and enforces them) at selected intervals throughout the day. Taking breaks is a key element in preventing RSI.
Does GeekAlarm! help prevent carpel tunnel syndrome?
GeekAlarm! encourages you to stand up, move around, and even exercise during your breaks. GeekAlarm! is designed to give you 15 minutes of break for every two hours in your workday.
Does GeekAlarm! help prevent computer vision syndrome?
GeekAlarm! makes the suggestion on each of your breaks to look out the window and focus on objects at varied distances. This combats the effects of staring at a computer monitor all day.
Can I customize GeekAlarm! alarm intervals and times?
GeekAlarm! allows you to set the interval between breaks, the length of each break, and the enforcement of each break (active or passive).
Can I customize GeekAlarm! break notifications?
GeelAlarm! also allows you to customize the images that are displayed during a break. It also allows you to customize the audio prompt at the start and end of each break.
Does GeekAlarm! tell me when I need a break?
In active mode GeekAlarm! locks your computer down for the length of the break and give you some suggestions on what to do during your break. In passive mode, GeekAlarm! shows a balloon hint suggesting that it would be a good time to take a break.
Is GeekAlarm! easy to use?
Absolutely! GeekAlarm! comes pre-configured for enforced 30 minute breaks with each break lasting four and a half minutes. It is also pre-configured for audio prompts.
Does GeekAlarm! have a simple interface?
Yes. GeekAlarm! has a simple interface with clear descriptions of each feature. You customize GeekAlarm! to fit your needs in less than a minute*.
More Screenshots - Click each image to enlarge!