Galactic Battle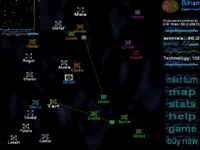 Galactic Battle is an easy to learn yet hard to master turn based space strategy game. Your are fighting for survival against a number of AIs that control rival star empires. To win the game you need to cleverly develop your planets, colonize (read: conquer) new ones, and keep the computer from grabbing too much of what is meant to be YOUR galaxy. Mass fleets, divide and conquer, protect your well populated worlds from marauding armies, make tactical advances, and develop new technologies to boost your armies' strength and fleets' range.





Order Now $19.95 USD
Software Information
System Requirements
Genre:
Strategy

Windows 95/98/2000/ME/XP
Pentium II
64 MB RAM
10 MB disk space

License:
Free to try, $19.95 to buy
Download:
Buy to Download
Rating :
Main Features of Galactic Battle :
Ferocious A.I.
Your game is automatically saved when you quit in a hurry, so you can pick up where you left off.
Five skill levels.
Five galaxy sizes.
Adjustable number of opponents.
Runs with every screen resolution and even in a window.
A slim design lets you enjoy the game immediately.
Additional Registration Benefits :
Play epic games in big galaxies.
Fight the toughest AIs.
No more nag screens.
Conquer the last enemy planet.
Play an unlimited number of games