Final Cut Express HD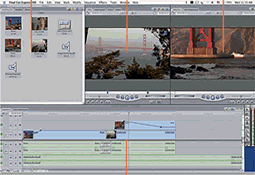 Take your filmmaking to the next stage with Final Cut Express HD. Along with powerful DV editing tools, Final Cut Express HD now offers high-definition video (HDV) capability to beginners and experienced editors alike. And full versions of LiveType and Soundtrack let you create animated graphics, text effects and custom soundtracks.
Whether you want to make sophisticated home movies complete with transitions and effects or pro-level videos for your business, Final Cut Express HD provides the compositing, titling and effects capabilities you need to express your creativity. As a full-featured package, Final Cut Express HD offers an unparalleled combination of power and affordability.
Final Cut Express HD gives you the tools and flexibility to create stunning, professional-quality DV and HDV projects.



Download Free Trial
Software Information
System Requirements
Version:
3.5.1
A Macintosh computer with a 500 MHz or faster PowerPC G4 or G5 processor and an AGP graphics card compatible with Quartz Extreme
384 MB of RAM (512 MB required for RT Extreme and Soundtrack)
For HDV: A Macintosh computer with a 1 GHz or faster PowerPC G4 or G5 processor and 1 GB of RAM
DVD drive for software installation
License:
Free to try, $299.00 to buy
Screenshot:
View Screenshot
Rating:
Key Features:
Edit DV or HDV Projects
The most full-featured consumer video editing solution on the planet, Final Cut Express lets you edit HDV as well as DV, then preview your work full screen on a primary or secondary display. Capture your video over FireWire and start editing in real time, complete with multi-layer video, text or graphic compositing. Then create your own DVD with iDVD or DVD Studio Pro, export your movie for the web or send it back to your camera or dock for fast connection to your HDTV home theater system. With support for both 1080i and 720p HDV as well as DV, Final Cut Express HD gives you superb image quality at an affordable price.

LiveType: Create Dynamic Text and Graphics
Bundled complete with Final Cut Express, LiveType lets you add animated text and motion graphics to your DV or HDV video projects. LiveType offers hundreds of royalty-free textures, objects, templates and effects — all completely customizable to fit your project. LiveType gives Final Cut Express the most affordable, integrated animated title and graphics package ever.
Soundtrack: Score Your Vision
Final Cut Express includes Soundtrack, the custom music creation software package from Apple. Compose unique musical elements for your projects using Soundtrack loops, even if you've never written a note before. Create your own royalty-free score by laying down tracks, cutting a mix and synchronizing music to match events in your video. Soundtrack makes it all fast and easy for musical novices and seasoned composers alike.
Grow Your iMovie Projects
With seamless iMovie import, you can take advantage of the additional features of Final Cut Express — including hundreds of real-time effects and transitions, LiveType titles and graphics, Soundtrack scoring and multiple video layer compositing — to add a new dimension to your iMovie videos. Become a better editor with Final Cut Express and bring your iMovie projects along for the ride.
Integrate Multi-Layered Photoshop Files
Final Cut Express fully supports Photoshop files and layers within your video projects. When you import your Photoshop files, Final Cut Express displays them as a multitrack video sequence, with each Photoshop layer placed on its own fully editable video track. Then you can use the compositing and key framing capabilities of Final Cut Express to build amazing motion graphics. Since you're basing these motion graphics on Photoshop images, you can maintain a consistent look between materials such as web pages and printed matter and your video creations.

Create and Sync Voiceovers
If you are creating documentary work or need voiceover narration in your project, use the Final Cut Express VoiceOver tool. The VoiceOver tool gives you a countdown before starting, then records directly into an audio track while the video plays. This lets you time your audio perfectly. And Final Cut Express provides more than 25 audio filters, including three-band and parameter equalizer, compressor/limiter, 60/120-Hz hum remover and noise gate to give you control over the quality of your soundtrack.
Add Real-Time Transitions, Filters and Effects
Final Cut Express comes with over 200 transitions, filters and effects including dissolves, wipes, page peels, blurs, borders, mattes, keying effects and more. And thanks to RT Extreme, you can preview many of them without rendering. As an editor, you'll love this feature because it saves you time and lets you concentrate on the creative task at hand: You can preview your edit decisions as you work.
Composite with In-Canvas Motion Key Frames
Compositing — the technique of layering multiple video tracks to create visual effects — can mean a simple title overlay or a complicated video montage. Final Cut Express gives you the tools you need to composite up to 99 layers of video graphics and titles in the Canvas window. Then use the intuitive interface of Final Cut Express to control parameters of each layer — things like scale, rotation and key framing. The compositing engine of Final Cut Express includes advanced features such as motion paths with Bezier curves, motion blur, time effects and frame blending with precise control over the location, movement and speed of each video element. Sub-pixel interpolation rendering ensures that your video looks great when you're done. With Final Cut Express, your projects get eye-popping motion graphics.
Perform Advanced Color Correction
The advanced Color Corrector in Final Cut Express helps you adjust edited sequences to account for differences in video from different cameras or from different lighting setups. It's also a great tool for enhancing the look of your video. With Final Cut Express, you can perfect the look of your movie.
Insert Markers
Click on the Marker button to insert a marker into a Final Cut Express clip or into a sequence timeline. Markers let you annotate while you edit, identifying important video or audio points. Soundtrack, LiveType, Compressor, iDVD and DVD Studio Pro all recognize markers when you export a sequence. This feature makes it easy to score your movie, synchronize your titles, encode your project or create a DVD with chapter navigation.
More Screenshots - Click each image to enlarge!