File Substring Replacement Utility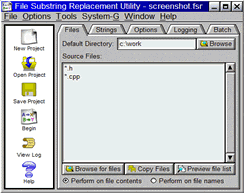 File Substring Replacement Utility (FSRU) performs search and replace operations with multiple strings in multiple files. It was designed specifically for computer programmers working on large projects with many source code files, however any type of file can be used, including HTML. Search and replace operations can also be performed on filenames (mass renaming). A detailed log is kept of every substring that is found and replaced. Case-insensitive, whole-word, wildcards, and command line searches are supported. FSRU is a professional, rock solid program - don't trust your files to anything less!




Download Trial 2.18 MB
Software Information
System Requirements
Version:
9.1

Windows 9x/Me/NT/2000/XP/2003
Pentium or similar processor
64MB RAM

File Size:
2.18 MB
License:
Free to try, $19.99 to buy
Screenshot:
View Screenshot
Rating:
File Substring Replacement Utility Features:
Works with all versions of Windows® 95, 98, NT4, 2000, ME, XP, and 2003.
Not only can search and replace operations be performed on the contents of one or more files, but on their filenames as well. This is very useful for the automated mass renaming of files.
The "Whole Word" option can be used to ignore matches that occur inside a word. For example, "amp" would be ignored if found in "example".
The question mark and asterisk "wildcards" are optionally supported in search and replace strings.
The search-only option allows you to preview the changes before they are made.
Works on any type of file, including binary files. The files can be located on a local area network.
Permits case-sensitive or case-insensitive searches.
The search and replace strings are allowed to be canonicalized in the style of either URL's or HTML. This permits the representation of special characters.
A MS-DOS command batch can be executed before or after the operation.
The number of replacements can be limited to a certain number.
The line numbers on which the operation is performed can be limited to a certain range.
All parameters are checked first for errors before the operation begins. including invalid directories, no files match the criteria, unentered information, duplicate search strings, unequal number of search and replace strings, replacement string is the same as the search string, etc. A warning is given if a file was specified more than once or there are two identical replacement strings.
The operation log contains the start time, elapsed time, total lines in each file, total lines processed, total number of altered files, total number of files processed, total number of occurrences of each string, total number of all occurrences, and total number of lines that contained occurrences.
Blazing speed - processes approximately 70,000 lines per second on a 3 Ghz. Pentium 4.
Great care is taken when making changes to a file. The old file is renamed to a temporary file for safe keeping. The replacement is then written and verified. If no errors occur, the temporary backup file is deleted. Otherwise, the backup file is restored and the error is reported. These steps help ensure that data never gets lost.
A thorough Help File describes all features in detail.
More Screenshots - Click each image to enlarge!