Easy streaker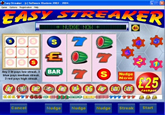 Easy streaker is slightly different to our previous games, in that is dosent have a feature board. It is based on a Lo-tech style fruit machine commonly found in arcades and bingo halls.
It has a unique feature for fruit machine simulations, a Matrix! On the reels there are red and blue symbols, match any of these symbols in any order in view and you will be awarded a streak! Match 3 blue symbols for a better streak, or 3 red symbols for a super streak!




Software Information
System Requirements
Genre:
Simulation

Microsoft Windows 95/98/2000/ME/XP
Microsoft DirectX 7
Pentium2 800MHz processor
64 MB RAM
32 MB square space

File Size:
2.76 MB
License:
Free to try, $10.99 to buy
Rating :
Main Features of Easy streaker :
Money In - Shows the amount of money the machine has taken.
Money Out - Shows the amount of money the machine has paid out.
Current Percentage - Shows the % of money paid out compared to money taken in.
Target Percentage - Shows the ratio of money in to money paid out which the machine is trying to reach.
Hopper - Displays the amount of virtual money on the Hopper
Cash Box - Displays the virtual amount of cash that has fallen into the machines cash box
Last Win - Displays the last win collected
Drift - Displays the amount of cash the machine can realistically pay out to keep its percentage, or indeed how much it has to save to get back to its target percentage!
Streak Pot - This meter shows how much money the machine has saved towards giving a series of Jackpots.
Diff. - Displays the difference between the actual percentage and the target percentage.
When you register you will receive these benefits:
10 use limit will no longer apply..
No restrictions on the features you can take..
You will be able to view the reel guide..
You will be able to transfer money from the bank to your credits..
Finally, you will seep better knowing you are supporting Software Illusions!