Video raptor Premium (Audials Mediaraptor 9)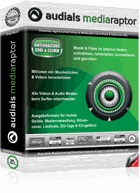 Find, record, download, convert and enjoy music and video films from the Internet
You get free music, music videos and films, always in the right format.

Are you looking for a certain song or music video by your favorite artist? Audials Mediaraptor can find what you need in more than 10 of the best internet portals. Just enter what you're looking for in the search field and Audials Mediaraptor will record it automatically from social radio stations and video portals.
Your movies, music videos and web clips
It's simply amazing: every time you watch a video or listen to a song on a website, Audials Mediaraptor records it for you. Special bonus: if there is MP3 music embedded on a web site, Audials Mediaraptor can record these files without playing them first. Try it out for yourself! With Audials Mediaraptor, you can get hooked up by YouTube™ and lots of other well-known portals with free entertainment that you can load onto you cell phone or impress your friends at the next party by playing these files on a projector or TV.





Software Information
System Requirements
File Size:
78.7 MB

Windows 7/Vista/XP/2000;
1 GHz CPU
512 MB RAM
DSL-Internet access

Version:
9.0
License:
Free to try, $24.90 to buy
Screenshot:
View Screenshot
Rating :
At a glance: your entertainment features in Audials Mediaraptor 9:
Simultaneous meta searches of numerous websites for targeted music and music videos
Directly supports all the important music video portals
Create MP3 files from music videos recorded on YouTube™, etc.
Install 3rd party plug-ins to expand searches to access more sources
Classify the music you have found by bit-rate (MP3 music) and rating (music videos)
Simultaneously record as many found songs / music videos as desired
Record all the MP3s, as well as other audio files, that can be played using your web browser
Records every social radio stations
List all the MP3 download links that appear in websites
Record all the videos that can be viewed with your browser at the network layer
Records also RTMP-E videos by direct screen recording
Integrated player to display and play all your recorded songs and podcasts
Transfer music with 1 click to iTunes, Winamp, Windows Media Player
Synchronize MP3 players, cell phones and USB devices easily
Burn audio CDs, MP3 CDs, MP3 DVDs. Burn to several CDs in one step
Ringtone editor for individual ringtones, transfer to cell phone via a cable or Internet
Music manager: display your music collection by artist, genre, file type
Easy to use tag editor
Add your own pre-existing music to the music manager
Search the Internet by tags, covers and lyrics for your own music
Automatically round out large groups of your own music files with tags / add lyrics
Flexible, rule-based reorganization of your music collection's file types on the hard drive
Flexibly import music from external sources and automatic, rule-based reorganization
Define your own settings for storing music and reorganization.
What are social radio stations? How does Audials Mediaraptor (Videoraptor) work?

Social radio stations are websites that allow you to customize radio programming. Audials Mediaraptor can control social radio stations and video portals undetected from afar, list what music and music videos these site play, make these sites play the music you want and then record it automatically. This revolutionary approach gives you an unlimited supply of music!