TotalNotes

Turn your storage device into another brain, and carry it to work on any PC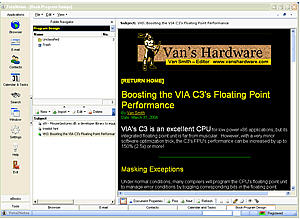 Searching for a piece of information on your hard disk can be very time comsuming and also quite dispiriting if you can not find what you want. As more and more information from the internet, email, office working files, digital cameras etc. accumulates, knowledge workers need an integrated, robust office suite with filing/document management capabilities to improve their daily work flow. TotalNotes does the job for you--totally.

Although TotalNotes performs great installed on a PC or Notebook, it is completely portable. You can also install it onto any usb hard disk or flash drive and start it directly from the removable drive, letting you use it on computers that will not allow user installed software. This 100% portability makes TotalNotes an excellent integrated knowledge management solution for mobile workers who need to work on multiple computers, whether at home, at school, at the office (with administrative rights) or at a client's office, even at hotel business centers, airport lounges and internet cafes. No more trying to piece together information gathered on different machines. With TotalNotes everything can be managed in one spot, all the time.

Order Now $49.95 USD
Software Information
System Requirements
Version:
1.1.0.0

Windows 8/7/XP/Vista
About 15 MB free disk space for installation.
16-bit color and 1024 x 768 resolution or greater.
Internet Explorer 5.5+ is required.
U3 Smart drive is required if you want to use U3 Smart version.

File Size:
12.3 MB
License:
Free to try, $49.95 to buy
Download:
Click to Download
Rating :
Main Features of TotalNotes :
a fast and efficient internet browser, with tabbed interface, popup blocking,
privacy protect, RSS reader and more
internet bookmarks on-the-go
a portable internet password manager with 1-click sign-in, auto sign-up and a form filler
searchrolls - personal search engines using only the sources you trust
the ability to collect, organize, edit and share online content and take web page screenshots
an effective POP3 email client with support for HTML mail, a powerful quick search, and a very simple way to filter out junk/virus mail
email highlighting, adding comments, editing and managing message content, taking message body screenshots
the ability to convert the content of a message into a to-do item or an appointment record
a luxurious address book with a user friendly interface
a MS Outlook style calendar with concise to do tasks and support for calendar synchronization with MS Outlook
Strong ebook organization for storing and organizing text, rtf, html, images, doc, xls, ppt and pdf files, importing messages from eml files, MS Outlook and MS Outlook Express (other file formats can be handled through attachment)
ebooks support for a unique Q&A mechanism for group e-learning, whole book exchange and single document exchange, exchange files can be protected by password
support for full text search capabilities, finding documents, messages, people, tasks and appointments with ease
built-in: rtf text editor, web page editor, simpler spreadsheet, rtf2pdf converter, file and folder shredder, internet activities cleaner and text recombination tool for publishing purposes
equiped with a comprehensive database maintenance tool
Installation Procedure
For general version:

1. Run the setup application (installtotalnotes.exe or installtotalnotes_green.exe).
2. Follow the instructions on the installation dialogs.
3. Once TotalNotes has been successfully installed, it will start up automatically. You will need to select a language pack and then initialize a new database for the first time.

For U3 Smart version:

1. Startup U3 Launchapd, (a) execute Add Programs - U3 Download Center (direct you to U3 Software Center and find TotalNotes from their Business category, then press Trial) or Install from My Computer (if you already have U3 Smart installation pack totalnotes_u3_xxxx.u3p in your local disk) on U3 Launchpad. Or (b) execute the .exe version of U3 Smart installation package from your local disk (file name installtotalnotes_u3_xxxx.exe).
2. Follow the installation instructions on U3 Launchpad.