StuffIt Standard Edition for Mac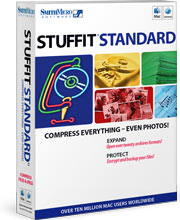 Completely redesigned for better performance and expanded functionality, StuffIt Standard solves all your basic compression needs!

StuffIt Expander® allows you to access any file, download, or attachment, DropStuff™ creates .zip archives for Windows users, and .tar archives with StuffIt, BZIP, GZIP, or UNIX compression.
More Room On Your Drive! Shrink documents up to 98% of their original size! Free tons of space on your hard disk and your flash drive! Save more compressed files onto CDs or DVDs!
Compress JPEG Photos and Images by up to 30%! With its revolutionary new Image compression technology, StuffIt archives what no other compression product has been able to do – reduce the size of JPEG photos and images up to 30% with absolutely no loss in image quality!
Where existing archive technologies such as zip are unable to further compress JPEG pictures, StuffIt's patent-pending technology enables users to fit more onto CDs, DVDs, and other storage and backup media. This provides significant bandwidth saving for professionals, businesses, hobbyists or anyone looking to share images over the Internet or on the network!
Strong Encryption! Users now have to enter a password to view the contents of an encrypted StuffIt X archive, but unlike previous "whole archive encryption" implementations, once a password has been entered, the contents of encrypted StuffIt X archives can be changed.




Software Information
System Requirements
Version:
11.0.2

Macintosh OS X
256 MB RAM
20 MB free HDD

License:
Free to try, $49.99 to buy
File Size:
16.4 MB
Rating:
StuffIt Standard Edition for Mac Features:
PHOTO COMPRESSION
Compress Photos up to 30%, Compress without any quality loss.
COMPRESS & EXPAND
Open and Save Windows archives, Create StuffIt, Zip, and Tar archives,Search Archives by Name, Date, & more, Burn files to multiple CDs &DVDs, Multi-Processor Enabled
SEND
Built in FTP, email, & .Mac transfers, Split apart files to beat email size limits,
PROTECT
Strong 512-bit encryption, Protection against data corruption, Encrypt Zip and StuffIt archives
Segment Files Across Disks!
StuffIt will automatically split your archives across multiple disks!
Safe & Secure!
StuffIt self-repairs archived data, keeping it safe from transmission and media errors.
Backup Data Fast!
Now StuffIt is the easiest way to protect your data, or your whole hard disk. Schedule backups to run automatically while you sleep, and StuffIt will even send you a confirmation message to assure you your data is safe.
RELATED SOFTWARE DOWNLOADS FOR STUFFIT STANDARD EDITION FOR MAC