Studio Necessities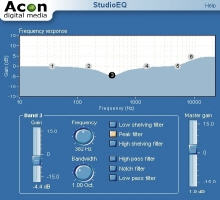 Studio Necessities is a DirectX and VST compatible plug-in pack for use in host applications such as multi-track audio editing or processing software. It is a collection of effects for editing and mastering, consists of six different plug-ins:

StudioVerb is a high quality reverberation simulator
StudioModulator, comprising a phaser effect and time-delay modulation effects such as flanger and chorus
StudioEQ is a six-band full parametric equalizer with peak and shelving filters
StudioLimiter is a brickwall limiter
StudioDynamics is a versatile dynamic processor
StudioDelay is a multi-tap delay effect.




Software Information
System Requirements
Version:
2.5.3

Windows 7/Vista/XP/2000/
A Pentium or compatible processor
Minimum 64 MB RAM
A Windows compatible sound card
A DirectX plug-in compatible host application

File Size:
1.70 MB
License:
Free to try, $49.90 to buy
Screenshot:
View Screenshot
Rating :

Studio Necessities consists of Six different plug-ins, See Features:


All Plug-ins Features:
Accessible from DirectX or VST compatible host applications
Supports 8, 16, 24 and 32 bit sample format
Supports IEEE 32 bit floating point
Supports multichannel formats up to 8 channels, including 5.1 and 7.1 surround formats
All internal processing in 32 bit floating point
StudioEQ
Six band full parametric equalizer
Accurate visualization of frequency response.
Filter Types: Peak filter, High shelving filter, Low shelving filter, High pass filter, Low pass filter, Notch filter.
StudioVerb
High quality simulation of natural rooms
Smooth reverberation decay without coloration
Adjustable input low and high shelf filter gain and cut-off frequencies with visualization of the frequency response
Adjustable parameters: Reverberation time, Pre-delay, Dry - early reflections and reverb level, High frequency damping, Room size, Input high and low shelving filter cut-off frequencies.
StudioLimiter
High quality brick wall limiter
Adjustable limiter threshold and output gain
StudioDynamic
Versatile dynamic processor
Arbritrary level-mapping curve
Soft-kneeing independently adjustable for each point in the level-mapping curve
Numerical entries for the points in the level-mapping curve
StudioModulator
Three different effects in one: Flanger, Chorus and Phaser
Four different modulator functions: Sinusodial, Random, Triangular and Square
StudioDelay
Multi-tap delay with up to eight taps
Supports delays up to 5 seconds
Visualization of the echogram
Delay time, feedback, gain and low pass filtering independently adjustable
Tempo synchronized mode with delay given in beats