SeaGreen Mac Edition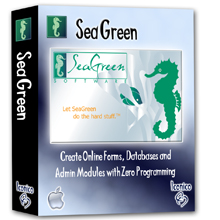 SeaGreen is the latest example of innovative, time saving Mac form builder software, and it's going to change your web programming life for the better! SeaGreen form builder software does all of the work for you, automatically creating online forms, MySQL databases, and administration modules, without any complex programming on your part! Just use the intuitive visual interface to design the layout of your form, arranging text boxes, radio buttons, dropdown menus, and more until it's exactly as you envisioned it! All that's left for you to do is publish your form to your website with a few simple clicks. Handy wizards guide you through the process of integrating your form into your existing website. You can also use SeaGreen form builder software to produce standalone web forms on their own pages.

SeaGreen for Mac is a form builder software that allows you to create flexible and accessible online forms. Based on your form, SeaGreen creates the database tables for you (in MySQL) and a straightforward, password-protected administration module that can be used to search, edit and sort the database. SeaGreen also makes it easy to export your data for use in other programs such as Microsoft Outlook® or Excel®.




Software Information
System Requirements
Version:
1.0.12

Mac OS X 10.4 or later
PowerPC or Intel Pentium processor
512 MB of RAM

License:
Free to try, $149.00 to buy
Download Size:
39.3 MB
Screenshot :
View Screenshot
Rating :
What kind of forms can I build with SeaGreen? Use your imagination to build all kinds of forms:
Contact Form
Newsletter List
User Survey
Employment Application
Class Registration
Event Sign-up
Customer Resource Management
Reservations and/or Invitations
Address Book
Customer Feedback Form
Quote Request.
Key Features of SeaGreen for Mac Edition:
Flexible Form Design via Click-n-Drop Interface
Design your form using the Form Layout grid. Based on your design, SeaGreen writes the CSS code required to correspond with your design.
Multiple Types of Customizable Fields
Click a button and add text fields, textareas, dropdown lists, radio buttons and more fields to your form. Items can be moved with the mouse, arrow keys or snapped to the grid. Resize them, change their look, and arrange them any way you wish using the Form Layout interface.
Field Validation
Validate and require fields with the click of a mouse - choices include email format, phone numbers, text and more! You can even edit the warning message your users see. Validated fields helps to cut down on spam submissions.
Multiple Lines of Text
Enter more than one line of text at a time to your form with text blocks.
Form Merge
Use SeaGreen to create stand-alone forms or merge your form with your website design using the built-in form merge wizard.
Customize Code
When you create your form in Form Layout, SeaGreen writes all of the necessary code for you. However, if you wish, you can edit this code with the integrated Code Editor.
MySQL Database Tables Written for You
Based on the form you create, SeaGreen will create the database tables for you. All you have to do is give your database a name, username and password. Want to change your form? SeaGreen will also update the database! No need for a new database every time you change your form.
Password Protected Administration Module
Don't know how to use phpMyAdmin? No worries! With a few clicks of your mouse, you can design an easy-to-use Administration Module for searching and editing your database. The module is web-based and password protected so only you (or those you allow) can access your database information from any browser.
Spam Control
Control spam with field match validation. Require that users enter their email address twice (two fields that must match) and/or have users enter an exact string of characters (such as a graphic with distorted letters and/or numbers).
Email Notification
For every form submission, SeaGreen will send a notification email to the address of your choice with a subject line specified by you.
Email Confirmation to User
Choose to have a confirmation email sent to the users that fill out your form. This email will not include any hidden (or "admin") fields.
Custom Thank You Page
Upon confirmation of the form submission, send your users to a thank you page that you specifiy. If you don't want to use a custom thank you page, your users will be taken back to a blank form.
Built-in FTP
SeaGreen has a built-in FTP module so you can submit your form (and supporting files) directly to your website (using a domain name or IP address). No need to upload a bunch of files and images, SeaGreen will upload any files your form needs with a simple click of the "Publish" button.
Sort, Edit and Export Database Data
Using the web-based Administration Module, you can sort, edit and export your database information. Export your search results to a CSV file for use in other applications.
Bad Word Filter
Have a textarea in your form? Use the Administration Module to create a list of custom words that you want filtered out before the form data is saved to the database.
File Upload
Your customers can upload as many files as you want. Your web hosting service is the only limitation.
Hidden Fields
Hidden fields are useful as administrative tools. They're hidden from the public, but can be viewed and edited from the Administration Module. Want to know the last time you updated your form? Use a hidden field! Want to note if a customer has paid for a service? Use a hidden field!
Graphical Elements
Add customizable lines, squares, rounded squares or circles to your form.
Import PDFs
Do you have a bunch of PDF forms that you want to convert to an online form? Use SeaGreen's PDF Import feature. With a few minor aesthetic tweaks, your PDF will be paper-free and database-enabled!
Work Offline
SeaGreen is a desktop application. You only need to be connected to the internet when you're ready to publish your form. This means that you can work on your forms from anywhere - on a plane, on a train, or wherever you need to be when you're working.
Free Upgrades & Support
Buy SeaGreen once and get all feature upgrades and bug fixes for FREE! Support is also free via email and our user forums.
Requirements
PHP and MySQL are all that's required to run SeaGreen forms.
RELATED SOFTWARE DOWNLOADS FOR SeaGreen Mac Edition