Safari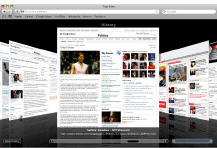 Safari is the world's fastest browser and free download for Mac/PC.
Safari renders web pages at lightning speed. It works on the iPhone, iPod touch, Mac and PC. It shows you your favorite sites at a glance. And it's so smart, it even checks your spelling and grammar. Meet Safari 4, the world's most innovative browser.
Safari is designed to emphasize the browsing, not the browser. The browser frame is a single pixel wide. You see a scroll bar only when needed. By default, there's no status bar. Instead, a progress gear turns as your page loads. And if you so choose, you can hide almost the entire interface, removing virtually every distraction from the browser window. A great browser should get out of your way and let you simply enjoy the web. Safari does just that. And it does it regardless of platform.
The first browser to deliver the "real" internet to a mobile device, Safari renders pages on iPhone and iPod touch just as you see them on your computer. But this is more than just a scaled down mobile-version of the original. It takes advantage of the technologies built into these multi-touch devices. The page shifts and reformats to fill the window when you turn it on its side. You zoom in just by pinching and extending your fingers. Of course, no matter how you access it, Safari is always blazing fast and easy-to-use.



Download Trial 28.2 MB
Software Information
System Requirements
Version:
4.0.4

Windows XP/Vista/7
256MB of RAM
DirectX 9.0
500-MHz Pentium-class processor or better

License:
Freeware
File Size:
28.2 MB
Screenshot :
View Screenshot
Rating :
Key Features of Safari:
A more elegant browser.
Before Safari, browsers were an afterthought. Something you put up with if you wanted to surf the internet. One browser looked and felt just like another, so you chose the one that worked the best and crashed the least. They were ugly, cluttered affairs, whose interfaces competed for your attention and made browsing — the very purpose for which they were created — more difficult. Safari changes all that.
Innovation.
Everyone has their favorite web sites. The problem is that you have to click through them one by one. Not anymore. With Top Sites, Safari keeps a running tally of the websites you visit and automatically creates a graphically rich page that displays up to 24 thumbnails of your favorites. That makes it easy to spot the site you want to visit, and to open it with a click.
Technology that Invites Innovation
The world's fastest browser, Safari has speed to burn. Why should you wait for pages to load? You want to see those search results, get the latest news, check current stock prices, right now. And Safari delivers, letting you wait less and browse more. In fact, every Safari update is tested to make certain it continues to deliver the fastest browsing experience on any platform.
The browser that has your back.
Yes, the web can be a scary place. But when you use Safari, you can surf worry free. To keep your browsing your business, Safari offers Private Browsing. Simply turn it on, and Safari stops recording the sites you visit and the software or docs you download. It also stops storing your Google searches, cookies, and the data in online forms you fill out. So feel free to shop online or check your bank account from a shared or public computer.
To prevent companies from tracking the cookies generated by the websites you visit, Safari blocks them by default. Then it automatically erases cookie trails and accepts cookies only from your current domain. It also provides built-in pop-up blocking, so you don't have to be bothered by unwanted ads.
RELATED SOFTWARE DOWNLOADS FOR SAFARI