RedBox Organizer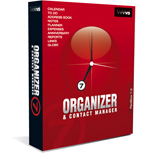 RedBox is a complete contact management and scheduling solution dedicated for home and small office users. It integrates an easy to use Calendar, Address book, To Do, Planner, Notes, Anniversary, Expenses, Links, Password manager, Reports and Globe. Use it to set up appointments. Keep track of business and personal contacts and record event history for each contact. Attach photo to the contact, autodial phone numbers, send e-mail, visit web page. Create to do lists. Plan long-term activities. Make notes. Manage and track all of your expenses. Create anniversaries. Determine the distance between cities. Create reports. Synchronize your data with Palm and Pocket PC devices. Create and send personalized letters and e-mails to your entire mail list. Sort and filter information. Print data in different ways. Publish data to the web. Export, import and backup data. Link anything with everything. And much, much more.




Software Information
System Requirements
Version:
7.0

Windows XP/Vista
PROCESSOR: Pentium 1.4Ghz
MEMORY: 256 MB RAM
VIDEO CARD: 32 MB OpenGL compatibile

License:
Free to try, $29.99 to buy
File Size:
3.69 MB
Screenshot:
View Screenshot
Rating :
RedBox Organizer Features:
You can use the Calendar section to keep a record of daily appointments and to organize your personal and working time.
To Do section enables you to keep a record of things that you need to do over a certain period of time.
From the Address Book you can easily maintain your personal and business address books.
Planner helps you schedule and prepare for events that take place all day or for more than one day.
Notes are the electronic equivalent of paper sticky notes.
Password section enables you to safely manage all your passwords and confident information.
You can use the Anniversary section to keep a list of all the important dates that you need to remember every year.
The Expenses section lets you enter information from your receipts, and then it totals your receipts in a formatted expense report, ready for you to print and sign.
RedBox allows you to link anything with everything.
All data from RedBox can be printed in many different ways using the templates and also from Reports section.
Cut/copy/paste options enable you easy transfer of data within same sections and between different sections.
RedBox can create up to 255 databases that can be password protected. A Backup/Restore option allows you to save your data to a safe place, which are restored in case of system's crash. Compact option will compress database after deleting a large amount of data.
Reports section is used for summarizing results from the other parts of the application.
The Globe section of RedBox displays a Globe that shows daytime and nighttime around the world.
You can share information between your Palm or Pocket PC connected organizer and your RedBox database.
All data from RedBox can be printed in many different ways using the templates.
Mail merge features will allow you to send Letters or E-mail to specific contacts or your entire mail list with just a few clicks.
Redbox offers you two special features for direct data import from MS Outlook and Windows Address Book (WAB) exported file.
RedBox Reminder is a small application, placed on the Windows taskbar, and it works independently from RedBox, but it collects information from RedBox.
RELATED SOFTWARE DOWNLOADS FOR RedBox Organizer