Normfall Manager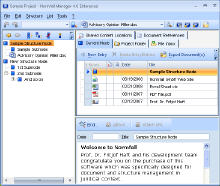 Normfall Manager - Outliner, Annotator, Link & Offline Manager.
The universal solution that manages personal document and combines powerful outlining capabilities with references to precise locations within documents (by page number, bookmark etc.) online and offline, in DMS (planned) or Outlook, and in the file system by its own administration or by yours.
Normfall Manager can easily build outlines of any size, share with others, Organize document content by outline, Create targets within documents using our add-ins for Office, E-Mail and Acrobat applications.
It was developed for lawyers viewing and organizing documents in very extensive lawsuits, Normfall Manager now has many other applications: Knowledge manager: A central TOC for all your knowledge. Document outliner: Create outline already with text, then convert to Word format. Team repository: Organize all your project's information in one location.

Download Trial 14.40 MB
Software Information
System Requirements
Version:
4.10.0330

Windows 8/7/XP/Vista
.NET Framework 2.0 or newer
512 MB RAM

License:
Free to try
File Size:
14.40 MB
Screenshot :
View Screenshot
Rating :
Normfall Manager Features:
Optically attractive new user interface.
Built-in and custom icons for defining structure node types.
Simplified attaching using plug-ins (Adobe Acrobat, Microsoft
Office, Windows Explorer, Internet Explorer).
Automatic copying of documents to the project folder when attaching.
Quick attaching using the system history of recently opened documents.
Fast attaching using the file inbox (supports division of labor).
Quick access to Normfall projects using the "Normfall button" in hover mode, which always remains visible on the screen (optional).
Attaching to several structure nodes simultaneously using "checkmarks" in the "reference box".
Selection of several structure nodes simultaneously is possible.
Conversion of structure nodes to reference rows and reference rows to structure nodes.
Shared content locations: the contents of several structure nodes or reference rows can be automatically synchronized with one another.
Shortcuts: Using a shortcut with a structure node shows its branch at another location of the structure tree.
Hyperlinks in the structure: References to structure nodes in other structures (projects) possible.
Hyperlinks from flow text in other applications (e.g. e-mail) to structure nodes possible.
Node Types: Additional out-of-box node types and support of custom node types using your own icons.
Improved formatting possibilities in the editor.
Dragging documents with the mouse, copying and pasting: now possible in every direction (to/from Windows Explorer and Outlook).
Management functions for documents: Export, zip, print, send, delete entirely.
Integrated display of the project folder.
Improved search functions: Search in attached documents using Microsoft Indexing Service, search in branches or by date.
Database server support: Very robust even when dealing with large quantities of data and multiple-user access.
For system administrators: Possibility of defining standard options settings for user groups by means of the Normfall Manager Administration Kit.
Renaming: In NF4 the structure file is now the "project file".
System requirements: Please note the new system requirements.
Discontinuation of the index function.
At the moment no updateable Authoring structures possible.
RELATED SOFTWARE DOWNLOADS FOR NORMFALL MANAGER