NetDefender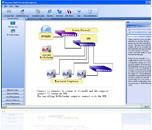 NetDefender is a professional intranet monitor management software. User can monitor the whole intranet by installing it on one computer. The monitored computers with Windows, or Mac OS, or Linux can be monitored in the intranet. It is a sort of software that has accomplished monitoring and managing the intranet in a single computer. It is a reputed and a professional network monitoring software product. The product has many features and it is stable. It is a popular software product for the network security in enterprises or schools.

The main functions of NetDefender are: monitoring and blocking sending or receiving emails, sending or receiving web mails, BBS posts, FTP, website access, and IM of QQ/MSN/Yahoo/ICQ/POPO/UC. It can also block BT,eMule/eDonkey,online game centers. User can designate a time frame for blocking to fit the system requirement, or set holiday dates for it. NetDefender also support network flow management and the Remote Desktop. All the data will be monitored and logged, and users can view it at any time.




Software Information
System Requirements
Version:
4.0

Windows XP/Win2K/Win2003
CPU: P4+/100M+ Spaces
Summary: Email /Chat Monitor
Protocol Analyse: Layer 2/Layer 3

File Size:
8.02 MB
License:
Free to try, $88.00 to buy
Rating :
Main Functions and special features
NetDefender is a professional intranet monitoring management software. You only need to install it in a single computer, and the whole intranet status will be in your hands.

It can do monitoring and management based on IP address or MAC address.
It does monitoring and management for individual person or a group.
It supports software routing mode to carry out filter out all data packages.
It supports to filter out user customized protocols, ports, IP addresses, keywords, IM tools, online games and so on.
It support to manage the network flow.
It support remotely monitoring the network content and the monitored client's desktop.
Function introduction:
Restrict employees' surfing actions
You can set the system within a certain time frame to restrict employees' internet access. The time setting can be any time of 7*24, and also it supports holiday settings.
Within the appointed time, the system will restrict computer internet access by following the configured monitor strategy: Forbid BT protocol(BitTorrent,BitComet,FlashBT),eMule/eDonkey
Forbid or restrict the sending and receiving of emails
Filter configured websites, keywords, protocols, or ports, etc.
Block online games and stock software, etc.
Forbid or restrict the sending and receiving of emails
Forbid or restrict the file uploaded from FTP
Block IM tools, which includes QQ/MSN/Yahoo/ICQ/POPO/UC, etc.
You can bind IP addresses to MC addresses, or forbid using free IP, or you can set VIP users (No monitored) and black users (No internet connection).
Support network flow management

Record employees' daily surfing actions
The system will record all online behavior automatically for every computer in the intranet, from this you can get what your employees are doing online.
Sent or received emails (SMTP/POP3), including contents and attachments.
Sent web mails, BBS posts, including contents and attachments
URL and titles of visited websites
Files uploaded by FTP, and accounts, IP, and so on. (Notice: password is filtered out without being recorded)
Messages of QQ/ MSN/Yahoo
QQ Messages
Log all keystrokes
Log the clipboard
Take Screenshots every interval
Manage the flies of monitored computer
Remotely monitor desktop of monitored computer

Monitoring log
You can review all the monitoring logs remotely:
Emails(SMTP/POP3), including email contents and attachments
Sent web mails, including mail contents and attachments
Monitoring BBS posts/ apply for services/ public articles etc.
The details of visited websites(URl and Titles)
Files uploaded by FTP
Chatting contents of QQ, MSN, Yahoo
Keystrokes, clipboard, screenshots
It can distill email addresses, QQ accounts, and MSN accounts.
It can build reports forms for all the intranet actions.
The installation requirements
OS requirement: Windows 2000/XP/2003 + IIS. Server versions are highly recommended. Hardware requirement: P4+ CPU, 512M+ memory, 100M+ hard disk space (for logs). The requirement depends on the number of monitored computers.
Notice of monitoring
Employees should be notified that a intranet monitoring tool is implemented, and please get agreement from them.
Please keep secret of the monitoring log from outpouring. Suggest to enable user authorizing management mode.
RELATED SOFTWARE DOWNLOADS FOR WINLOCK REMOTE ADMINISTRATOR