MyDesk Professional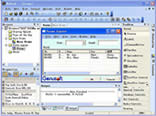 MyDesk is the first really general visual and Codeless Visual Programming System in the world. It can be used to create individuating and professional computer software without using computer languages.

MyDesk is a highly effective factory of software. A mass of standard ActiveX controls are its part fittings. Organizing and using different ActiveX controls reasonably, can carry out different actual applied functions, so it is a system with infinite extension. In other words, as long as have the required parts, it can produce any software product.

MyDesk adopts a new "What you see is what you get" technique and intelligentized technique perfectly. All designing processes can be immediately completed by clicking, dragging or selecting simply with a mouse, and built a result (*.exe file) to run and release at once.

MyDesk integrates different styles and demands of numerous applications. The application product built by it is varied and professional, and allows the end-user to carry on essential expansions second. The software product built by MyDesk 2.0 is a complete independent application, as other software product built with using code by common software development tool, so it can run by itself not depending on the MyDesk 2.0.

MyDesk creates more conditions that anyone can create his own computer software without using computer languages for more persons. DIY software becomes possible.




Download Now 23.0 MB
Software Information
System Requirements
Version:
2.0

Windows NT 3.x,NT 4.x,2000,XP,Unix
Pentium II CPU
64 MB RAM

File Size:
23.0 MB
License:
Free to try, $69.00 to buy
Screenshot:
View Screenshot
Rating :
What can MyDesk Professional do?
MyDesk develops application system completely basing on ActiveX controls. As any computer, ActiveX control is an abundant and potential storehouse. MyDesk 2.0 just offers a superexcellent performance stage for them, so as to organize and use different ActiveX controls reasonably to carry out different actual applied functions. Therefore, MyDesk 2.0 can do any application that you want to do, not only general application, system, network and internet, multimedia, database but also a game etc.
MyDesk enriches system function and graphical interfaces of the application product built by it. Almost anyone can create a special, diverse and professional application without much studying.
MyDesk provides multiple high efficiently applied tools. User can organize and arrange these interested tools by himself, in order to program with facility and convenience.
MyDesk can develop many projects at the same time. Besides, the main content of one project can be applicative to another project. That is to say, the project has the function of repetitive using.
MyDesk has the function of template. Lots of standard and general interfaces or elements can realize almost without modification. The template can be designed and extended by user.
The software product built by MyDesk 2.0 is a complete independent application, and it can run by itself not depending on the MyDesk 2.0. Nothing to Genusoft, user holds the independent copyright, and can use it for any business purpose.
The software product built by MyDesk2.0 has not language barrier. It is free to use what language to program the project. And the application built by this project appears with the same language.
Almost no rules to use MyDesk 2.0. So to speak, you want to express what, put what up and then set it!
How MyDesk2.0 work?
We can comprehend the work process of MyDesk 2.0 through the following two aspects:

We can take MyDesk 2.0 as a program tool, for example Basic or VC, then take the project of MyDesk 2.0 as source code, so the result built by them is similar -- an independent application.
We can take MyDesk 2.0 as a program factory, and take the ActiveX control as a part. The result assembled by different parts, is the product made by MyDesk 2.0. If you use "tire", "bodywork" and "engine", it will produce a car. If you use "plastics" or "rubber", so it will produce a cup or tire.
Notice of using MyDesk 2.0 Professional first time
If use the MyDesk 2.0 for the first time, we suggest you click Tool menu → Options command, then do some necessary settings in the Options dialog, which will affect initialization and environment variables of a new project, and can lighten the workload of adjusting parameters to a new project each time.
Using the MyDesk 2.0 for the first time, toolbox will establish several groups of ActiveX control for you. Maybe you are not interested in these groups or ActiveX controls, but you can arrange, add or delete your needless groups or ActiveX controls with the function of context menu. Besides, with the function of import\export group, you can import the tool file including various different ActiveX controls that Genusoft provides for user.
Necessarily tidy and lay your menu, toolbar, especially docking pane, which is fit for your habit Everything is ready. First, click File menu → New command, then give a name for your project. A new project will be created at once; Second, add a main frame or forms layout, and do some settings according to your need;
Last, click Build button, then click Run button after finishing building. An application built by your project will run immediately in front of you!
RELATED SOFTWARE DOWNLOADS FOR MYDESK PROFESSIONAL