mnoGoSearch Pro Standard Edition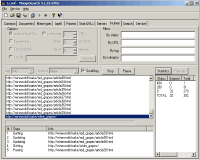 mnoGoSearch is a full-featured web search engine software for intranet and internet servers designed to organize search within a website, number of websites, intranet or local system.
mnoGoSearch Pro stores its data in a SQL database using an ODBC driver. MySQL, PostgreSQL, Interbase, Cache, Mimer and MS Access can be used together with Standard Edition.
To search through your documents you index them using the indexer component of mnoGoSearch. Indexer is a spider that reads the documents you specify and stores information about words it finds in tables in a SQL database. You can specify what kind (format) of documents to index, location of documents (a website, a directory on server, single webpage, etc.). You can define the level of importance (weight) of various document properties and parts that are taken into account during searching.
This release is build using singnificantly improved new generation mnoGoSearch engine 3.2 which includes the following major changes:
Better internationalization: support of all modern widely used character set was added, including multibyte character sets for Chinese, Japanese and Korean, as well as Unicode UTF-8.
Templates: search.htm language was significantly improved. New feateres include conditional operators, external includes, simple/extended search modes were added.
Cached copy: you can see a snapshot of each page as it looked when indexer processed it, with search words hilighted.
Smart excerpts: search now fetches relevant excerpts containing query words.
Results ordering: it is now possible to choose relevancy/date results order, as well as reverse order.
Content encoding: indexer now supports gzip/compress/deflate HTTP compression. It significantly reduces traffic for HTTP servers supporting compression.
Meta tags: you can define custom META tags you want to index. Only Description and Keywords META tags were available in the previous version.




Software Information
System Requirements
Version:
3.2.42

Windows 8/7/XP/Vista
512 MB of RAM
Pentium II CPU

File Size:
2.55 MB
License:
Free to try, $995.00 to buy
Screenshot :
View Screenshot
Rating :
Key Features of mnoGoSearch Pro Standard Edition:
Full text indexing. Different priority can be configured for body, title, keywords, description of a document.
Supporting all widely used single- and multi-byte character sets, including UTF8, as well as most of the popular Eastern Asia languages.
Automatic document character set and language guesser for about 70 charset/language combinations.
ASP-frontend
Web-configurator
HTTP/1.0 support
FTP support
NNTP support (both news:// and nntp:// URL schemes) in standard and extended modes.
HTTP Proxy support
Local file system indexing support (file: URL schema)
Supporting gzip, deflate, compress content encoding
Most of the modern SQL databases support. Currently Oracle, MS SQL Server, IBM DB2, Sybase ASE, MySQL, PostgreSQL, InterBase, Firebird, Mimer, SQLite, Virtuoso, iODBC, unixODBC, EasySoft ODBC-ODBC bridge IBM DB2 Caché databases may be used as mnoGoSearch backend.
Search clusters: creating a search database, distributed between several machines, with up to dozens or hundreds millions documents.
Basic authorization support (to index password protected areas)
Built-in support for HTML, XML and text document formats.
External parsers support for other file types (pdf, ps, doc etc.)
Indexing of data stored in a SQL database
Mirroring features
Stopwords support
"keywords", "description" META tags support
User defined META tag support.
Reentant capability. You can run few indexers and searching processes at the time
Continual indexing
Indexing depth can be limited
HTML and XML templates to easily customize search results
Boolean query support
Fuzzy search: different word forms (stemming), synonyms, substrings
C CGI, PHP3, Perl search frontends
Search through a subsection of a database
It is very flexible.
RELATED SOFTWARE DOWNLOADS FOR MNOGOSEARCH PRO STANDARD EDITION