Mercalli Expert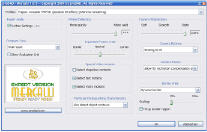 Mercalli Expert is a Video Stabilization software which lets you stabilise shaky footage during post processing.
Mercalli detects and distinguishes between intended movements, such as panning or zoom shots, and unintended shocks and shakes. Mercalli analyses every frame in a video clip.
Whenever it detects any shake or tracking of an object, Mercalli stabilises the frame by repositioning the entire image to compensate. This reduces camera shake and smoothes the object. The result is always a significant improvement, and even perfect footage can be achieved during post-processing!





Software Information
System Requirements
Version:
1.0

Windows XP/Vista/7
128MB RAM

License:
Free to try, $119.00 to buy
File Size:
389 KB
Screenshot :
View Screenshot
Rating :
Why choose Mercalli Expert?
Mercalli is intuitive to use.
Unlike with other solutions, you don't need to battle with mathematical theories. Mercalli does it all for you, in the background.
Mercalli lets you decide
You, the viewer, can best assess the results. You, the producer, want to create a certain atmosphere. Although Mercalli is fully automatic, it lets you make specific recommendations and requests using its intuitive controls. Mercalli lets you view the analysis of the video footage and provides suggestions for further improvements. Together, these features let you achieve a maximum level of stabilisation - and the best possible results.
Mercalli is easy to use
The consistent integration of the plugin ensures maximum ease of use. Mercalli integrates directly with your video editing solution. You can access it just like our other program filters or video effects and apply it to a video clip. With other stabilisation programs, you still have to run imports/exports, configure codecs, etc ...
Mercalli is fast!
On up-to-date systems, Mercalli will even run in real time. Where similar programs process 3-4 frames per second, Mercalli simply tears through the frames of a video sequence. Even multicore support is included as standard, so Mercalli uses all of your current system capacity and will be an optimum solution for future hardware upgrades.
Mercalli is affordable!
As little as 59 euros will buy you a first-class highly efficient stabilisation solution, which gives you maximum freedom even at the filming stage - because use of a tripod or another more or less convenient stabiliser system may not always be practical or even possible.
Confirmed by experts!
EventDV Moving Picture columnist Jan Ozer explains how you can stabilize your video effectively and efficiently with proDAD Mercalli using a host of well-chosen presets and more. Further he compares Mercalli with other competitive products such as 2d3 SteadyMove, Apple SmoothCam, Adobe After Effects Motion Tracking.
Mercalli Expert includes:
All plugins (except Pinnacle Studio), see below (Available plugins)
Video-Shaker Expert
Extended Mercalli Expert mode with advanced settings for

Speed- or detail-focused movement analysis
Selectable detection area
Special video analysis modes
Special camera movement modes

Extended Video-Shaker Expert mode with advanced settings

Speed- or detail-focused movement analysis
Selectable detection area
Special video analysis modes
Special camera movement modes

Multi-format rendering, incl. SD/DV, HD/HDTV etc.
RELATED SOFTWARE DOWNLOADS FOR MERCALLI EXPERT