Lookeen 2010 Professional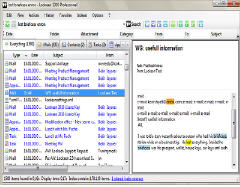 Lookeen is the search tool for Outlook 2003 and 2007.
Lookeen is an add-in application for Microsoft Outlook for fast search of E-Mails, Attachments, Contacts and many more! The search tool is seamlessly integrated in your Outlook and will search everywhere in your Outlook data. Find every mail in no time at all!
Lookeen will find every mail in all stores and archives! It can use innovative features to search faster than ever in Outlook, search synchronous for mails, attachments, appointments, tasks, notes and contacts, central Indexing in companies, and search in external PST-Files or archives!





Software Information
System Requirements
Version:
3.0.1.1830

Windows XP/Vista/2000/7
Outlook 2003, 2007 and 2010
.Net 3.5 or later
512 MB of RAM

License:
Free to try, $39.80 to buy
File Size:
11.4 MB
Screenshot :
View Screenshot
Rating :
Key Functions of Lookeen 2010 Professional:
Lookeen is more than just a search tool for Outlook
Lookeen is an Add-In application for Microsoft Outlook 2003, 2007 and 2010, that will change your daily work primary.
Every day you write and receive countless emails – you are wasting a lot of time sorting your inbox or searching for important information in your archives or Exchange Server. Lookeen will let you handle your email-flood easily.
Lookeen is the solution
Arrange and organize even huge mounds of data fast and easily.
The concept of the index search makes it possible, to find each information within seconds. With Lookeen you will 'find' instead of 'search'. Lookeen is compatible to Office 2003, 2007 and 2010!
Lookeen turns Office into a powerful e-mail search engine.
Many Outlook users have several PST files (Personal Folder Files), additional archives or exchange stores.
If you are looking for an entity without Lookeen, you have to search every folder manually. Particularly searching through huge mounds of data and multitude folders is very extensive and costs a lot of time and resources. Lookeen indexes itself with all stores of your Outlook account. With one of the fastest search engines on the market, you will gain your search results within split seconds.
Central Indexing in companies
Central Indexing of jointly used Outlook data within the company – this is the new Lookeen Shared Index.
The advantages: It reduces the degree of capacity utilisation and traffic on exchange-servers and in networks, preserves the user's processor- and storage resources and last but not least it saves precious working time.
By using the Shared Index you generate a central index and you make this index available for all desired users. This can be done in a very comfortable way by delivering the index path. Now the individual users are able to browse through personal indexes and external indexes at the same time.
Lookeen as a desktop search
Within your Outlook Lookeen find the information you need fast and easily. But also local folder or network directories can be indexed and searched extremely fast.
Index your important folder with Lookeen and search also the content of your Office-documents, PDF´s or web content like HTML- or PHP-pages.
RELATED SOFTWARE DOWNLOADS FOR LOOKEEN