HTML Match - HTML comparison tool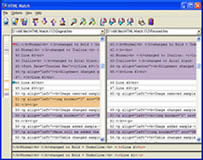 HTML Match is the easy HTML comparison tool for Windows 2000/NT/XP/Vista available on the Internet today.

Use it to analyze the changes between two revisions of an HTML file. The files can be on a local hard drive or can be web pages on the Internet. HTML Match can be used to locate the differences in the program source code, text content or visual aspects of the pages. Differences, down to the individual character level, can be viewed in either a one-window composite layout or a two-window side-by-side view. What Makes us Best? Most other HTML comparison utilities are designed to benefit programmers; therefore, they show the differences only in the HTML source code. The reality is that there are other groups of people who need to compare HTML files: Web Page Designers, Technical Writers, Quality Assurance Analysts, and others. The needs of these groups may be different from the needs of Programmers. Web Page Designers don't generally care about the source code differences. What they need to see are the visual differences between the pages. Technical Writers don't care about source code differences or graphical differences. What they need to know are the differences in the textual content of the pages. The current tools on the market do not address the diversity of needs of these various groups of HTML professionals.

This is where HTML Match sets itself apart from every other HTML comparison utility on the market. Programmers can compare source code differences in either a one-window composite view (similar to MS Word) or a two-window side-by-side layout (similar to MS Visual Source Safe). Web Page Designers can view the changes visually as they appear in their browser with the differences highlighted in-place. Technical Writers can compare the text content of the pages. The text is extracted from the pages and differences are shown in either a composite or a side-by-side format. Impeccable Pedigree... HTML Match was developed building upon and adding to the knowledge and experience of several industry leaders. It combines technologies from the makers of FolderMatch (Winner at the 2002 & 2003 Shareware Industry Awards), Component Software (world-class version control software), and JAFSoft (HTML conversion experts).




Software Information
System Requirements
File Size:
4.55 MB

Windows 98/ME/NT/2000/XP/Vista
Pentium II CPU
64 MB RAM

License:
Free to try, $27.95 USD to buy
Screenshot:
View Screenshot
Rating :
Main Features of HTML Match - HTML comparison tool:
Compare local HTML files or web pages on the Internet
Compare either source code or visual aspects or text content only
Compare two HTML files and view the textual content differences
View differences in a side by side presentation or in a one window composite view
Differences are clearly shown with color highlighting
Adjustable difference detail levels: Line level, Word level, and Character level
Allows drag and drop of files onto HTML Match for comparison
Callable from a command line
Easy navigation from one difference to another
Search for text within the files
Bookmarks can be added to the comparison results
Ignore Space and Ignore Case comparison options supported
Files can be printed with the differences pointed out