Handy Folders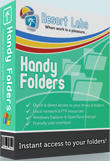 Handy Folders provides quick and direct access to your files and folders.
It creates a list of your favorite folders like you do in the Internet browser but expand it to your own PC drives, LAN, or ftp sites, and you will get to any of these folders with but one click!
Your favorite folders list which can be opened by Handy Folders contains predefined folders and optionally disks on your PC and LAN. Wherever you open the list, just click the location you need: this launches a Windows Explorer instance with the selected folder open.
Configuration is also handy! Again, there are two options for you to choose: either go to the desired location in the Windows or Internet Explorer and click "Add current folder" in the Handy Folders pop-up menu, or open the c onfiguration dialog box and compose the structured list of your favorite locations. If you want to customize the appearance, review other tabs of the configuration dialog; they contain wide variety of settings for all working modes.




Software Information
System Requirements
Version:
3.5

Windows 2000/2003/XP/Vista
128 MB of RAM

License:
Free to try, $19.95 to buy
File Size:
4.01 MB
Screenshot :
View Screenshot
Rating :
Handy Folders' advantages:
Friendly interface: two clicks maximum - and you are exactly where you wanted to be!
Easy configuration: manage your list of handy folders and change it whenever needed
Many settings, customizing the tool view.
Easy installation: just launch an executable file and try the software.
Embedded help system and technical support are provided.
What's new:
The support of the Open/Save dialog boxes is added: the toolbar of the program allows you to quickly switch between disks, add the current folder to the list of favorite folders, quickly switch to favorite folders in any standard Open/Save dialog box including Microsoft Office dialog boxes;
Now it is possible to show disks in the toolbar of the program as a dropdown menu or disable it;
A hotkey for opening the menu of favorite folders is added;
The support of skins for the toolbar of the program is added;
Now it is possible to hide the tray icon;
Now it is possible to start Explorer with the tree of folders or without it;
The support of the Russian language is added;
The consumption of system resources is optimized;
A lot of minor improvements and fixes.
Added possibility to group favorite folders into categories. Now you can conveniently group your folders and open them even faster! And the most important thing is that you can see categories in Windows Explorer and in the Open/Save dialog boxes as separate buttons!
Different ways of displaying categories on the toolbar are supported. Categories can be displayed in Windows Explorer and in Open/Save dialog boxes in three different ways: "Only icons", "Only text" and "Icons and text".
Added integration with Windows Explorer shell. Now you can quickly add one or several folders to the list of favorite folders from both the Windows Explorer context menu and from context menus of Open/Save dialog boxes.
Added feature to display categories in the tray menu and in the hotkey menu.
Added possibility to assign an inh1idual icon for any category. You can choose an icon for each category from icon sets supplied with the program. Five icon sets come together with the program: Folders, Documents, Internet, Hardware and Miscellaneous. You will easily choose the icon you need from more than 150 icons!
Added possibility to change the size of buttons on the program toolbar in Windows Explorer. You can make them large for your convenience or small for them to occupy less space. Configure Handy Folders the way you like it!
Added full Windows Vista compatibility.
Implemented multi-line style for toolbars in Windows Explorer and Open/Save dialogs.
Added Dutch and Korean translations.
Improved user interface.
Minor tweaks and updates
RELATED SOFTWARE DOWNLOADS FOR HANDY FOLDERS