Galactic Dream - Rage of War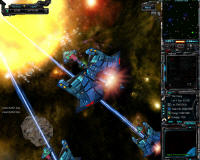 For hundred of years we have searched for the answer to an eternal question: 'Are we alone?'. A terrible menace from the galactic core that could lead to the extinction of all humanity, a mysterious destination, an alien king that will stop at nothing to get what he wants and who keeps a close track on humans, no matter where they go... Engage in epic galactic warfare, venture deep into space in a race against time, play through a tale about choosing sides and about how one man can make a difference, despite all odds and obstacles facing him.
The universe never witnessed such massive deployment of forces! Join up for the ultimate real-time strategy game in space! Control over hundred of units, fast creation of armies, cool units dialogs and much more. Guide your people through the galaxy!




Software Information
System Requirements
Genre:
Strategy

Win 98,ME,2000,XP, Vista
Pentium II CPU
256 MB of RAM

License:
Free to try, $25.99 to buy
Download Size:
84.2 MB
Screenshot :
View Screenshot
Rating :
Key Features:
Lead one of two distinctive and thriving species, forged into the heat of the galactic battle: the Terrans and the Argo. Two different sides, two unique playing styles, each coming with characteristic technology tree, units and combat tactics;
Fast creation of armies and simultaneous building tasks will completely satisfy your hunger to conduct rushes over the enemy. An uneasy job for a young Commander like yourself!
Over 50 Different Units and Buildings, each playing its own part in the interspecies war;
Control Hundred of Units and experience war at a new scale;
A Universe in 3 dimensions, offering you multiple perspectives over the battlefield;
Single Player mode featuring Randomized Maps each time you play against the ravenous AI;
The Epical Campaign will introduce you into the Galactic Dream captivating world, pushing even further the gaming experience. Over 20 missions across one campaign.
The Multiplayer Client supports 8+ players over the Internet (through Evolution Vault's free online gaming service) or over the LAN via TCP/IP;
Even more: detailed texture work, combat units that advance in levels to become the core of your unbeatable armada;
And much, much more...
More Screenshots - Click each image to enlarge!