Elecard XMuxer Pro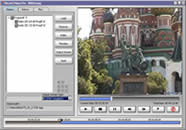 Elecard XMuxer Pro is video editing software designed for professionals and enthusiasts to demultiplex, multiplex, and remultiplex MPEG-2 Transport and Program Streams as well as MP4 files, trim HD DVD, iPod, PSP and AVI** files. The main XMuxer functions are provided by Direct Show filters performing demultiplexing and multiplexing.

What makes the application unique is that it allows the user to preview the selected stream for further demultiplexing or multiplexing, trim the file and perform the main operations on the predefined file portion.

Elecard XMuxer Pro is a great choice for those who want to exploit the cutting-edge technology implemented in easy to use products.




Software Information
System Requirements
Version:
2.6.8

Windows 7/Vista/2000/XP
128 MB RAM
Any VGA card
About 10 MB of free disk space

File Size:
4.54 MB
License:
Free to try, $500.0 to buy
Screenshot:
View Screenshot
Rating :
The basic application functions are:
remultiplexing of transport streams into program streams
remultiplexing of program streams into program streams with time stamps correction
demultiplexing of transport and program streams into elementary audio and video streams and saving them to separate files
multiplexing of audio and video streams into transport and program streams.
Elecard XMuxer Pro Features highlights include :
Previewing the selected streams
Remultiplexing only the selected (marked) streams
High definition video multiplexing/demultiplexing
Seek forward and Seek backward options
GOP-accurate MPEG 2, MPEG-4, AVC/H.264 trimming
GOP-accurate AVI (DV, XviD, DivX, 3ivX, etc) trimming*
Stream indexing
The GOP-accurate trimming function is available if the AVI Trimmer Plugin from Solveig Multimedia is installed.
The stream indexing function is available if the indexing system is installed. For example, you can download and install the Elecard MPEG Player.
Elecard XMuxer Pro Remultiplexing mode:
Supported Input formats:



MPEG 1 video stream
MPEG 2 video stream
MPEG 1, MPEG 2 audio stream
MPEG 1 System Stream
MPEG 2 Program Stream
MPEG 2 Transport Stream
AVC/H.264 video stream (see note: Previewing AVC/H.264 and MPEG4 (DivX4) video streams is available only in the presence of AVC/H.264 and MPEG4 (DivX4) decoder in the system correspondingly.)
MPEG4 (DivX4) video stream(see note: Previewing AVC/H.264 and MPEG4 (DivX4) video streams is available only in the presence of AVC/H.264 and MPEG4 (DivX4) decoder in the system correspondingly.)


Output formats:



MPEG 2 Program Stream
MPEG 2 Transport Stream
Elecard XMuxer Pro Demultiplexing mode:
Supported Input formats:




MPEG 1 System Stream
MPEG 2 Program Stream
MPEG 2 Transport Stream


Output formats:




MPEG 1 video stream
MPEG 2 video stream
AVC/H.264 video stream (see note: Previewing AVC/H.264 and MPEG4 (DivX4) video streams is available only in the presence of AVC/H.264 and MPEG4 (DivX4) decoder in the system correspondingly.)
MPEG-4 (DivX4) video stream (see note: Previewing AVC/H.264 and MPEG4 (DivX4) video streams is available only in the presence of AVC/H.264 and MPEG4 (DivX4) decoder in the system correspondingly.)
MPEG 1 Audio Layer (I, II, III) (ISO/IEC 11172-3)
MPEG 2.5 audio stream
MPEG 2 audio stream
LPCM Linear PCM (an audio standard for DVD)
AC3 audio stream (see note: Previewing and multiplexing AAC and AC3 audio streams is available only in the presence of AAC and AC3 decoder and parser in the system correspondingly.)
AAC audio stream (see note: Previewing and multiplexing AAC and AC3 audio streams is available only in the presence of AAC and AC3 decoder and parser in the system correspondingly.)
Elecard XMuxer Pro Demultiplexing mode:
Supported Input formats:



MPEG 1 video stream
MPEG 2 video stream
AVC/H.264 video stream (see note: Previewing AVC/H.264 and MPEG4 (DivX4) video streams is available only in the presence of AVC/H.264 and MPEG4 (DivX4) decoder in the system correspondingly.)
MPEG4 (DivX4) video stream (see note: Previewing AVC/H.264 and MPEG4 (DivX4) video streams is available only in the presence of AVC/H.264 and MPEG4 (DivX4) decoder in the system correspondingly.)
MPEG 1 Audio Layer (I, II, III) (ISO/IEC 11172-3)
MPEG 2.5 audio stream
MPEG 2 audio stream
LPCM Linear PCM (an audio standard for DVD)
AC3 audio stream (see note: Previewing and multiplexing AAC and AC3 audio streams is available only in the presence of AAC and AC3 decoder and parser in the system correspondingly.)
AAC audio stream (see note: Previewing and multiplexing AAC and AC3 audio streams is available only in the presence of AAC and AC3 decoder and parser in the system correspondingly.)


Output formats:



MPEG 2 Program Stream
MPEG 2 Transport Stream
A Transport Stream can consist of the following input pins:
MPEG 1 video stream
MPEG 2 video stream
AVC/H.264 video stream (see note: Previewing AVC/H.264 and MPEG4 (DivX4) video streams is available only in the presence of AVC/H.264 and MPEG4 (DivX4) decoder in the system correspondingly.)
MPEG4 (DivX4) video stream (see note: Previewing AVC/H.264 and MPEG4 (DivX4) video streams is available only in the presence of AVC/H.264 and MPEG4 (DivX4) decoder in the system correspondingly.)
MPEG 1 audio stream
MPEG 2.5 audio stream
MPEG 2 audio stream
MPEG 2 program stream
AC3 audio stream (see note: Previewing and multiplexing AAC and AC3 audio streams is available only in the presence of AAC and AC3 decoder and parser in the system correspondingly.) vAAC audio stream (see note: Previewing and multiplexing AAC and AC3 audio streams is available only in the presence of AAC and AC3 decoder and parser in the system correspondingly.)