Drawing Merge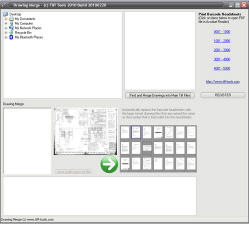 Auto Merge Large format scans into their parent document!
Every document scanning department/bureau has the problem where large format documents/drawings that have to be scanned separately on a different scanner from the main A4/A3 documents have to be manually merged with the main document.
It is then a time-consuming task to put the files back together again so that the drawings are in the correct pagination sequence within the multipage tiff. Drawing Merge completely automates this process. Simply scan our drawing placement barcode headsheet at the correct place within the A4/A3 file and then scan the large format drawing on your plan scanner and save the drawing tiff as the same name as the barcode headsheet in the main A4/A3 file. Then run our Drawing Merge software and it will automatically build a new multipage tiff file that includes all of your A4/A3 documents and your drawings/large format documents are then correctly compiled into the new multipage tiff file in the correct pagination sequence by replacing the barcode headsheets with the large format drawing scans.




Software Information
System Requirements
Version:
1.50

Windows 7/XP/Vista/2000/2003
Pentium 500 MHz processor
128 MB RAM

License:
Free to try, $449.00 to buy
Download Size:
4.67 MB
Screenshot :
View Screenshot
Rating :

Example:
You have a job that contains planning files. The original file contains both A4/A3 documents and large format drawings. The A4/A3 documents are scanned on the document scanner and the large format drawings have to be removed to be scanned on a large format drawing scanner. Traditionally the only way to place the drawing scans in the correct pagination sequence within the main document file is for an operator (or operators) to manually open each main document tiff file and manually merge in the appropriate drawing scan. This takes a huge amount of time that usually you are not able to charge for separately.

We have now changed all of that and have now automated this task.

How does it work?
Prepare your paper files for scanning as normal, eg, remove staples etc.
Remove each large format drawing, placing one of our drawing barcode headsheets in the same position within the file (replacing the drawing).
Each of our barcode headsheets has a unique 4 digit barcode number printed on it.
Discretely hand-write the barcode number within the border or the back of the large format drawing.
Scan the A4/A3 documents including the barcode headsheets on your document scanner.
Scan the large format drawings on your large format drawing scanner and save each drawing tiff file as the corresponding barcode headsheet number (remember we hand-wrote this number onto the border or the back of each drawing at the preparation stage)
Once all scanning is complete, simply Run our Drawing Merge software and it will automatically

Look for the barcode headsheets within the main multipage A4/A3 scans.
When it encounters a drawing barcode headsheet, it will then locate the corresponding tiff file for the drawing and replace the barcode headsheet within the main document with the large format drawing
A log of all activity is generated
It's as simple as that. A very complex process that would normally cost you many hours of expensive work is now completed as an unattended process. Run it over-night...it's like having unpaid shift workers who work without breaks!




RELATED SOFTWARE DOWNLOADS FOR Drawing Merge