Draw Pro Premier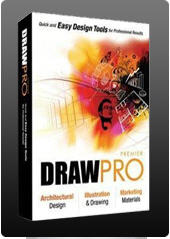 Draw Pro Premier is a drawing, graphic, and technical illustration software which can create professional looking drawings for home or office.
Draw Pro Premier is a jack-of-all-trades in the drawing software realm. You can create a blueprint for a home as easily as designing a scrapbook page. Our revolutionary drawing software includes a host of objects and clip art to help you on your way to a world class design. The intuitive layout means that even a novice can create top notch designs quickly and efficiently with DrawPro Drawing Software.
Draw Pro Premier is the easiest way to add professional graphics to any Microsoft Word, PowerPoint or Excel file. Its features include easy-to-use graphic design, page layout, drawing, painting and photo editing software, making it the ideal Windows graphics application for home or small business. DrawPro drawing software includes any easy to use online user's manual and quick reference cards found under the help menu inside DrawPro.
It can create professional looking business graphics in minutes such as: flowcharts, gantt charts, technical drawings, floor plans, office layouts, restaurant designs, business cards, logos, maps, business forms, family trees and much more!



Buy Now $79.95 USD
Software Information
System Requirements
Version:
4.0

Windows NT/2000/XP/Vista
Pentium II - class processor
64MB RAM
20MB free hard drive space
16-bit color minimum
800x600 or higher screen resolution
CD ROM drive for installation

License:
Free to try, $79.95 to buy
Screenshot:
View Screenshot
Rating :
Key Features of Draw Pro Premier:
Full Support for Windows Networking

DrawPro drawing software is optimized for Windows XP fast user switching.
Optimized features allow multiple user logon sessions while runniDrawProPRO drawing software at the same time.
Complete support for network file locking, allowing read only browsing on "in use" files.
Advanced File/Re-Open feature to monitor saved changes made to another user's work in progress.

Import & Export Different File Types

Import the following file types: WMF, EMF, BMP, GIF, JPEG, TIFF, PNG & DXF (autocad)
Export the following files: EMF, WMF, BMP, GIF, JPEG, TIFF & PNG

Drawing Software Tools

Quickly draw basic shapes and then combine them to create detailed drawings.
DrawProPRO drawing software offers unique Smart Tools which allow floating toolboxes so you may place them anywhere on your design for quick access. You can even dock them anywhere around your design to better fit your monitor.
Drawing software tools support any mouse for quickly creating shapes.
DrawProPRO drawing software supports keyboard entry when using the draw tools for precision design work.
Calculate area for any of the basic shapes created wiDrawPro'sO's drawing software tools.
Choose any line style or thickness for all of the drawing software tools.
Lines can have arrowheads at the start or end point of any line or choose to have arrowheads at both the start and end of a line.

Auto Shapes

DrawPro drawing software makes it easy to add a wide variety of pre-drawn shapes to any design.
A simple mouse click can add Basic Shapes, Blocks & Arrows, Callouts, Flow Charts, Stars & Banners, Landscape symbols and Signs of all types.
Add any color, fill patterns or fill effects to any of the auto shapes.
Rotate and flip auto shapes, symbols, lines and text by any angle.

Paint Tools

Impress your friends and colleagues with eye-popping designs when you combiine DrawPro's paint tools with it's drawing software tools.
DrawPro includes a set of Paint Tools that allow you add compelling special effects such as 3D effects, shadows, transparency, textures, gradients and more.
Paint tools can edit, repair and enhance digital photos that you add to your designs.

Colors & Fill Effects

DrawPro drawing software allows you to choose from over 16.8 million colors for your designs.
Choose from a wide variety of fill patterns, so you can add realistic effects to your designs.
Decorate your designs with Fill Effects. Choose from any two colors and add gradients, therefore blending the two colors for add special effects.
Change the color of auto shapes, symbols, lines, and backgrounds within any design.

5,000 Free Clip Art & Symbols

Create your own original artwork with our drawing software and save it as a symbol clip artart for quick and easy access.
Choose from thousands of images, colorfclip artart, symbols and design templates.
Resize, edit, move, change colors or add fill effects to any of the thousands of symbols aclip artart included wiDrawProPRO drawing software.

Clipboard Files & Viewer

DrawPro's drawing software incorporates a very useful clipboard viewer. The viewer allows you to keep any object you have copied and then paste it into the viewer.
You may copy as many objects, shapes and text into the clipboard viewer. This makes it very easy to view and select anything within the clipboard viewer and paste it into your design.
Custom clipboard viewer files may be created so you can organize and permanently store your favoriclip artart.

Floor Plan Tools

Save time and money wiDrawProPRO drawing software's smart floor plan tools. You can quickly plan your home improvements or remodeling projects with our drawing software.
Add immediate value and comfort to your home with DrawPro's pre-drawn home improvement projects. Valued at over $10,000 each project plan is a pre-drawn design enabling you to modify these plans to meet your specific needs. Plans include: Shade Arbors, Patio Barbecues, Outdoor Kitchens, Tree Houses, Decks and much more.
DrawPro drawing software includes professionally designed house plans and templates, so you can get started quickly.
Quickly create office layouts, restaurant layouts, landscape designs and much more wiDrawPro'sO's smart floor plan tools and drawing software templates.

Smart Dimensioning

DrawPro drawing software offers you a full range of easy to use dimensioning tools for added precision.
Automatic dimensioning lets you view the actual size of any object, line or shape as you draw it.
Display the floating rulers and move the rulers to any location on your design. You can also change ruler settings to any desired scale.
Resize any object you have already dimensioned using DrawPro drawing software and the program automatically updates the dimensions.

Photo Plug-In

Import and edit any digital or scanned photo with the drawing software photo plug-in feature.
You may add a photo to your designs and have it display as a camera icon. Then when you click on the camera icon within your design and the photo appears that you attached to the icon. You may open and close it as you need therefore saving space on your design.
This is a great way to show actual pictures of the design you have created.
Add as many camera icons as you need within your design.

Pop-Up Sounds

The pop-up sound tool allows you to add voice comments or any.wav sound to your documents.
You can actually record your own voice comments or instructions as a Windows.wav file and insert it directly into your design.
Pop-up sounds are recognized in your designs by a small speaker icon. Users simply click on the icon and the recorded sound you have attached will automatically play.

Pop-Up Notes

Inserting pop-up text notes is just like attaching handwritten notes using a sticky yellow Post-it® pad.
It's very simple to add pop-up notes and you may add as many as you want to aDrawProPRO drawing software document.
Simply select the pop-up note tool and click anywhere on your design, where a pop-up note is desired and a small yellow note cursor appears.

Design Layers

DrawPro drawing software allows users to have up to 256 layers per document.
Layers allow you to design different aspects of your design on individual layers which act as transparent overlays within your design.
You may also have different names for each layer, so it is easier to toggle between the different layers.
Example: If you design an office or restaurant layout you would design the walls on one layer. Then design the furniture layout on another layer. You could then layout you electrical outlets ainternetnet outlets on another layer.
If you have created a design which contains different layers, you may choose to view individual layers or view all layers at the same time.

Templates

Create your designs easily wiDrawPro'sO's free templates, which are include with the drawing software.
DrawPro drawing software offers a wide variety of professionally designed templates such as; Borders, Flowcharts, Flyers, Maps, Network Designs, Charts, Office Layouts, Home Plans and much more.
Templates are a quick and easy way to get your design requirements off to a good started.
You may modify, change colors, edit and add to the templates so they fit your specific design requirements.

Printing

DrawProPRO drawing software supports any Windows compatible printer such as laser, inkjet, color printers etc.
Printing offers full support of any size document that your printer can output.
Print your drawings to scale.
You may choose to scale your drawings by a percentage.
Choose the option to print your drawing so it fits to page.
Print orientation supports portrait, landscape or mirror image.

Sketch & Trace

Sketch your ideas on a piece of paper, and then open the scanned image of your sketch insiDrawProPRO drawing software.
Now that you have opened your scanned image DrawProPRO drawing software, it becomes a traceable ascalableble design template, therefore saving you time and money.

Add a background Watermark

DrawPro drawing software features a watermark layer for the drawings you create.
This allows you to add information such as logos, title blocks, copyrights or any information and/or design you may desire.
Watermarks added to your drawing will print.

Free File Viewer

DrawPro drawing software offers a free file viewer with each program.
This allows anyone to create their drawing with DrawPro drawing software and then email it to friends and colleagues.
Once they receive your DrawPro files, all they have to do is download our free file viewer and they will be able to open, print and view your files.
If you have added aDrawProPRO pop-up photos, sounds or notes they will be able to view or listen to them. This means you can send your own voice comments and they will hear them when they click on the sound pop-up speaker icon.

Free Help and Support

DrawPro drawing software has a full and intuitive user's manual available from the help menu.
The user's manual uses Adobe Acrobat® so you may view or print the manual.
DrawPro drawing software also includes Quick Reference cards for easy access to unique features within the program.
The clip art and symbols manual is also available under the help menu.
Free 24/7 technical support
RELATED SOFTWARE DOWNLOADS FOR DRAW PRO PREMIER