Delphi Spell Checker PRO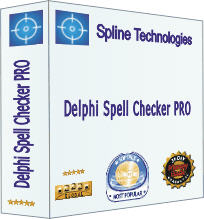 Delphi Spell Checker PRO - Spell check Delphi forms, hints and captions.
Delphi Spell Checker PRO is a unique spell checking add-in for Delphi (a Delphi Expert) that enables you to check spelling in any and all of your forms, hints, strings, captions, memos and text, in eighteen languages, all right in your Delphi 5-7,2005,2007,2009,2010 IDE.
Delphi Spell Checker PRO integrates directly into the IDE of Delphi 5,6,7 (all Editions), and when you click the [...] button of any caption, hint or TString, Delphi Spell Checker dialog appears, allowing you to spell check all the text you entered as you go. It's that easy!
And now with Delphi Spell Checker PRO you now can check spelling in your existing Delphi forms with one single click! Perfect to proofread each and every single form you already developed. Truly a must-have for any Delphi Developer, in our opinion.





Software Information
System Requirements
Version:
1.24

Windows 98/NT/2000/XP/2003/Vista
Delphi 6,7,2005,2006,2007,2009
128 MB RAM

File Size:
648 KB
License:
Free to try, $250.00 to buy
Screenshot :
View Screenshot
Rating :
Delphi Spell Checker PRO Features:
Easy to use Spelling Checker for Borland Delphi 5, 6 and 7, 2005, 2006, 2007, 2009
Seamless Delphi 5,6,7,2005,2006,2007,2009 IDE integration
No more cut-and-paste
No external editor needed
Spell check right in Delphi IDE
Multi-line Caption editing and spell checking - new in Delphi 5,6,7
Multi-line Hint editing and spell checking - new in Delphi 5,6,7
Multiple Monitors fully supported
Check spelling of:

Any control whatsoever
Hints of any control (TLabel, TForm, TButton, TMenuItem, any other control)
Captions of any control
TStrings property of any control (TMemo, TListBox, TComboBox, etc.)

Correct as you type with Auto-Correct
Choose the right word with Live Spell Checking
Add your words to 26 available dictionaries
Eighteen (18) Languages supported
Spell check using 26 included dictionaries
Spell checking dialog in your language
Quick and easy installation (takes less than 60 seconds)
No manual configuration needed.
Support for Multiple Delphi IDEs installed on the same PC.
Delphi Spell Checker integrates smoothly right into the IDE of Delphi 5, 6 and 7, even if you have several versions of Delphi installed!
Spell-check the entire form at once right in Delphi 6 and 7 IDE
Remembers the position of spell-checking dialog
Remembers the size of spell-checking dialog
Faster response time of spell-checking dialog
Smart scroll bars in spell-checking dialog
No word wrap in spell-checking dialog
New compact spell-checking dialog
RELATED SOFTWARE DOWNLOADS FOR DELPHI SPELL CHECKER PRO