BluffTitler DX9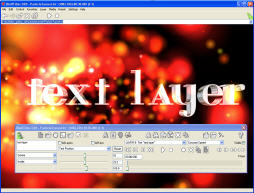 BluffTitler DX9 creates dazzling 3D titles for your videos.
BluffTitler is the easiest way to create 3D effects for Video Titling and Digital Signage. With BluffTitler you can create spectacular 3D text animations. The result can be played in realtime by the BluffTitler player or exported to video and picture formats for further processing in DVD authoring tools including: Pinnacle Studio, Sony Vegas, Ulead VideoStudio, MAGIX Video, Canopus Edius and Adobe Premiere.
It's features are: Independent animated layers, high resolution JPG, BMP and PNG textures, reflection mapping, high-poly TRUE TYPE font generated 3D text objects, straight and round bevels, realtime animated point, ambient and directional lights, high resolution JPG backgrounds, MPEG and AVI movies playing in the background or projected on the surface of a moving, scaling, rotating and morphing 3D plane, resolutions up to 2048, 32 bits colours, exports to video and picture formats (with chroma key), realtime full screen anti-aliasing, MIP mapping, character rotation, twisting effects, texture animations, coloured lights, specular highlights, kerning, golden borders, physics effects and so on.




Software Information
System Requirements
Version:
7.6.5

Windows XP/Vista (32 or 64 bit)
DirectX version June 2007 or later
Pentium III 800 MHz or better
128 MB RAM
10 MB available hard disk space
Hardware accelerated 3D graphics card with hardware vertex shader support

File Size:
7.11 MB
License:
Free to try, $57.95 to buy
Screenshot :
View Screenshot
Rating :
Fun examples of the power of BluffTitler DX9:
Flying Fonts
With BluffTitler you can create spectacular 3D text animations. All True Type and Open Type fonts installed on your computer can be used.
TV and Movie Intros
Use BluffTitler to recreate famous TV and movie titles for use in your own videos!
Smooth Scrollers
With BluffTitler it is easy to create all kinds of smooth scrollers ranging from 2D tickertapes to exciting 3D scrollers!
Beveled Borders
BluffTitler features straight, round and concave borders. The size, bevel and material of the border can be adjusted.
Light Beams
You can tell a point light to create light beams.
Background Videos
With the plasma layer you can create all kinds of spacy backgrounds like tunnels, plasmas, lobes, blobs, fractals and other eye candy.
Realtime Shadows
Text and EPS layers can cast shadows over themselves and all other layers. The colour and transparency of the shadows can be adjusted.
3D Birthday Cakes
With the model layer you can import 3D models into BluffTitler, like this delicious birthday cake!
Flying Logos
With the EPS layer you can import EPS logos. Of course the light beams effect can be applied to the EPS layer as well!
Wedding Rings
Use BluffTitler to add special effects to your wedding videos!
Integrated Particle System
With the particle layer you can add a golden glow to your texts.
Sport Events
BluffTitler animations are built out of layers that can be animated independently. This example uses 6 text layers to present the winners of a wresting competition.
Passe-Partout Party
With the passe-partout layer you can add nice frames to your animation.
Bump Mapping
BluffTitler supports bump mapping (normal mapping). With this powerful technology rough and bumpy surfaces can be simulated.
3D RSS News Feed Reader
You can instruct BluffTitler to load dynamic content from an XML file placed on your own harddisk or on a HTTP server. One particularly cool application of this technology is turning BluffTitler into an RSS news feed reader!
Advanced Character Physics
With BluffTitler it is easy to simulate complex physics effects. In this example the characters of the text are connected to each other with springs.
TV Games
BluffTitler is excellent for the creation of short clips.
Alien Particle
With the particle layer you can also create abstract animations.
Vertex and Pixel Shader Effects
BluffTitler comes with an exciting variety of innovative vertex and pixel shader effects featuring advanced material, lighting and animation effects.
Wild Hairs
Characters can be decorated with hairs, spikes and combs. The hair length can be adjusted and animated.
Sliver of Light
By animating the light position you can make the glints glide over your text.
Burning Fire
The particle layer can be used to set your text on fire.
Scary Titles
With the transparency effect in combination with the jumble effect you can easily create scary titles. Notice the nervous tic at the end of the animation.
3D Pixels
Every font can be rendered with this pixel effect. The size of the pixels can be adjusted.
Spinning Globe
Next to standard alignments like left, right, centred and justified, BluffTitler features more exciting compositions like circles, waves, rolls, spirals and waves.
Minimal Art
Tired of special effects? Enjoy basic geometric forms by placing them in between space and viewer. Can you feel the tension?
Pimp your Titles
Do not be afraid of cheesy graphics and pimp your titles to the max! BluffTitler features easy to use king of bling presets like diamonds, golden bevels, sequinned decorations and sparkles!
Sketch Effects
With the sketch layer you can create sketch effects. Sketches can be recorded with Bixelangelo.
100% Compatible
Your title can be exported as a movie file for further processing in DVD authoring tools including: Pinnacle Studio, Sony Vegas, Ulead VideoStudio, MAGIX Video, Canopus Edius and Adobe Premiere.
RELATED SOFTWARE DOWNLOADS FOR BLUFFTITLER DX9