ArchiCrypt Live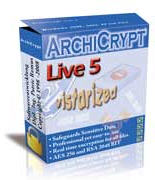 ArchiCrypt Live offers real-time encryption and protection for sensitive private or business data. It lets you encrypt all file types on your PC, laptop or network. That way ONLY YOU will be able to ACCESS your confidential information. Unauthorized access is effectively prevented.
ArchiCrypt Live uses the hash functions SHA-1 (Secure Hash Algorithm 1) with a length of 160 bit and SHA-512 which creates a 256 bit cryptographically secure hash sum. ArchiCrypt Live uses such hash functions for different purposes. First for processing the random data that were collected during the generation of passwords or keyfiles. Second for identifying passwords and for computing keys from passwords.
ArchiCrypt Live only stores decrypted files temporarily in your PC's RAM (memory). It never saves, not even temporarily, any decrypted data to a disk. Your data remains encrypted even while the volume is mounted as a drive. So not even in the event of a power failure will decrypted data remain on your hard disk.



Download Trial 13.1 MB
Software Information
System Requirements
Version:
5.10

Windows 8/7/XP/Vista
512 MB RAM

License:
Free to try
Download Size:
13.1 MB
Screenshot :
View Screenshot
Rating :
Further highlights of ArchiCrypt Live:
Masked password entry stops key loggers that may be running on a system from spying on passwords
"Quick Access" lets you access volumes instantly
Guest passwords (with limited rights if desired) can be set up
Access authentication possible via password, keyfile or ArchiCrypt Card (available separately)
"Emergency Shut-Off" feature will close volumes despite drive activity
"Magic Word" opens/closes volumes once a user defined "magic" code is entered
"Timeout" feature will close open volumes safely after user defined idle time
and many more
Key Features of ArchiCrypt Live:
Real-time Encryption
Encrypting sensitive data used to be difficult. ArchiCrypt Live makes data protection simple. ArchiCrypt stores your sensitive data in so called "volumes". Those volumes are single files (file extension is .acl) that contain all the files you placed in the volume. Since your secret data is encrypted and stored in one file it can be easily stored to any data carrier (e.g. hard disks, CDs, DVDs, USB sticks etc.).
Seamless Integration in Windows
To access the secret data in your ArchiCrypt Live volume you need to "mount" ("open" and "load" are used synonymously) the volume. This means ArchiCrypt Live will open the volume, once you have entered the correct password, and make it available on your PC as an extra drive. The opened volume is now an "ArchiCrypt Live drive".
Huge Volumes
ArchiCrypt offers up to 8 virtual drives (ArchiCrypt Live "drives"). Each can be 256 gigabyte in size. These virtual drives integrate seamlessly in your existing Windows environment. Everything saved to those volumes is stored absolutely safely even after a power failure. Volumes on USB sticks, CDs or DVDs can be used easily without copying the files first. Don't worry if you lose a CD or DVD. Without the password the encrypted data on the disk will be completely useless for the finder.
Encrypting Partitions
ArchiCrypt Live can encrypt entire partitions (or devices such as memory cards, USB sticks, external hard disks) if desired. Encryption will then be again faster when compared to encryption in volumes. Also deleting the volume by accident is effectively prevented, when the whole partition is encrypted.
Secret-Container
A secret-container is an area within your ArchiCrypt volume, that can only be accessed with a special password/key. You can think of a secret-container as an invisible safe inside of another safe.
Camouflage-Files
ArchiCrypt offers unique "camouflage-files". These volumes are called "camouflage" files, because they hide a volume holding secret data inside of any inconspicuous, normal file (i.e. "carrier file"). You can also say your ArchiCrypt volume is "embedded" in the carrierfile. However a regular user will only see the normal file (and it's content), but not the secret volume. Those files can be fully functional video or picture files or even application files.
Mobile Data Safes
As the name indicates mobile data safes can be used to transport your secret data and access the data on any other PC. Mobile data safes contain your secret data and an application that can load the secret data. You, or the recipient of the mobile data safe, will not need to have a special ArchiCrypt Live license on the PC on which you access the contents of the mobile data safe. How does it work? Similar to the technology used in camouflage-files, ArchiCrypt Live will embed a container holding your secret data in an application. This application can run on Windows Systems (2000, XP, 2003, Vista (64 bit)) and offer full read/write access to the volume.
Public Key and Certificates
ArchiCrypt integrates public key infrastructure (PKI) procedures. PKI in ArchiCrypt lets you sign your volumes. This way you can exchange volumes with other users without prior contact by using authentication through public and private key. To do this ArchiCrypt Live creates a X.509 certificate with key lengths of up to 2048 bit (RSA) Of course you can also use 3rd party certificates.
Password Generation and Evaluation
ArchiCrypt Live will generate passwords for you! You simply chose how strong you want the password to be and the password generator will create the password for you. Alternatively you can enter passwords manually. Then, based on strictly scientific criteria, ArchiCrypt Live will determine the strength of the password as you type.
SmartCard
Using the ArchiCrypt Card, a specially designed SmartCard, you gain maximum comfort and maximum protection. The ArchiCrypt Card is compatible with all PC/SC readers.
Volumes can be opened automatically once the ArchiCrypt Card is inserted, and closed once the card is removed. Secret keys can be generated right on the ArchiCrypt Card using a real hardware random number generator. The exchange of data between ArchiCrypt Live and the SmartCard reader is encrypted.
RELATED SOFTWARE DOWNLOADS FOR ARCHICRYPT LIVE