Access Autopilot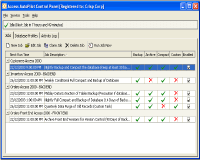 Access Autopilot will save you hours of time and frustration by ensuring critical backup, compact and archive operations are automatically scheduled overnight. But more than just an automated compact utility, it's a total access database 'back-end' administration control center.
Need to compact the database or bring it down for maintenance? Autopilot will reveal which users and computers are connected to the database then allow you to send a custom admin pop-up message direct to their machines i.e. 'Please exit the application!'.
Running as a Windows service for reliability, this server based tool will manage an unlimited number of access databases spread across your organization.




Software Information
System Requirements
Version:
1.0

Windows 8/7/XP/Vista
Pentium II CPU
512 MB of RAM

License:
Free to try, $129.00 to buy
File Size:
7.60 MB
Screenshot :
View Screenshot
Rating :

Key Features for Access Autopilot:

AUTOMATIC ACCESS DATABASE MAINTENANCE WHILE YOU SLEEP
Automatically Backup, Compact, Archive, Monitor and administrate Access databases across your network from one convenient control panel.
Manage an unlimited number of access database backends with one single license.
Set an unlimited number of maintenance jobs for each database profile, creating your own centralized 'database of databases'.
BACKUP YOUR ACCESS DATABASE WHILE IN USE
Best Backup technology determines if users are in your database, then chooses the best method of backup including extracting table data out to an external database. This creates a reliable, date archived, corrupt free copy of your database tables if you need them.
No need to have users exit the application before backing up tables.
Flexible naming conventions for archived backups include automatic date stamps, number sequences or customizations. Never be confused about backup sets.
CONDITIONAL COMPACT IMPROVES DATABASE PERFORMANCE
Compact all your access databases according to your own rules, such as database size or percentage of bloat since last compact. Regular compacting improves performance and reduces corruption.
Conditionally compacting the database prevents unnecessary database and network activity and prevents corruption.
ARCHIVE OLD BACKUPS AUTOMATICALLY FOR VERSION CONTROL
Keep a certain number of days backups, or even a file size limit such as 1GB of backups. Genuinely 'set and forget' the backup process because Access Autopilot purges old backup sets.
Purge rules include ability to keep a specific number of backup sets, total size of backups in one folder, or a certain number of days backups!
SCHEDULE MACROS FOR ADVANCED MAINTENANCE TASKS
Access Autopilot will even run a custom macro in your database, to perform more advanced tasks such as purging or archiving historic records, or even executing another application.
Setup a monthly or quarterly data purge that extracts superfluous records from tables into an external database by scheduling your own custom macro.
Execute any command line using the scheduler, e.g. run command.com to copy files or other advance tasks.
Advanced command line parameters can be used to activate features such as 'Whos In' and Quick stats from external applications.
VIEW LIST OF USERS IN THE DATABASE FROM THE SERVER
View all users in your access database, and even those who have left the database in a suspect (potentially corrupted) state.
Discover who is in the database (the computer and Access user name) so you can shut down idle users for maintenance purposes.
SEND POPUP ALERT ADMIN MESSAGES TO USERS DESKTOPS
Send a popup admin alert to a group of users, such as those currently logged into your database. Great for preventing new connections, or asking users to log out for maintenance purposes.
Works like windows popup, but enables you to send message to an unlimited number of users simultaneously.
CENTRALIZED MANAGEMENT AND EXCEPTION REPORTING
View maintenance history in one quick glance, detailed activity logs and exception reporting ensure you'll never accidentally forget to backup or maintain databases.
Shows detailed history of compact, backup, archive and custom tasks performed against databases. Never have to worry about whether a particular database has been compacted and backed up.
MONITOR DATABASE STATISTICS TO IDENTIFY BOTTLENECKS
Get quick statistics of the database state including table list, file size, access version, table and record counts, last compact and backup dates and last compact size.
View and monitor table and recordcounts remotely.
Helps identify and monitor performance issues in the database.
RELATED SOFTWARE DOWNLOADS FOR ACCESS AUTOPILOT