32 Cards World Cup Edition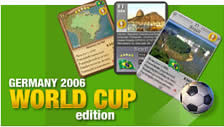 32 Cards World Cup Edition is an exciting free digital trading card game loved by both kids and adults. This special World Cup Edition has one card for each one of the 32 countries that will dispute the football (soccer) Cup in Germany in June 2006. 32 Cards has a fully themed interface that is designed to please the most demanding football (soccer) fans among you.

The game comes with literally hundreds of interesting data about each country, including World Cup and football (soccer)-related information, geography, population, and more. You can browse the card sets freely just like in the real world.

32 Cards is guaranteed to provide many hours of healthy entertainment to you, your kids and your whole family.

Download Free Version 7.64 MB
Software Information
System Requirements
File Size:
7.64 MB

Windows 98/ME/NT/2000/XP
Pentium II CPU
64 MB RAM

License:
Freeware
Screenshot:
View Screenshot
Rating:
Main Features of 32 Cards World Cup Edition:
Completely free -- 32 Cards is a gift for all soccer (football) fans!
Based on the Football (Soccer) World Cup in Germany 2006
Very attractive pictures (100+) of all participant countries
Cool old-style maps
Four beautifully designed themed card sets
Literally dozens of different attributes
Truly random shuffling guarantees millions of completely different games
Three different difficulty levels make the game suitable for kids and adults alike
Powerful Super Card feature adds twist to gameplay
Accepts additional card sets
The Details: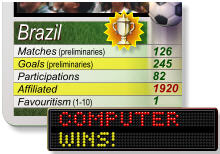 The game
The objective of the game is to accumulate the maximum points possible. You play against the computer. You (the player) and the computer get 16 cards each. On your turn, you will open your topmost card and choose one from the five available attributes to be disputed. The computer does the same. Values are then compared and two points are awarded to the winner, or one point each in case of a tie. This goes on until the end of the deck of cards.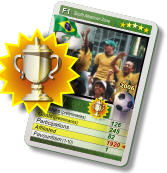 Super Card
This is a specially marked card that always wins on all attributes unless the opponent has a card from group A (A1, A2, A3 or A4). In this case the attribute is disputed normally.










Difficulty level
There are three difficulty settings, ranging from easy to hard. On the easiest setting, cards are chosen by the computer in a completely random fashion. In the hardest setting, the computer compares its current card with all remaining cards and selects the attribute that has the highest probability of winning.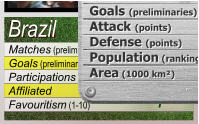 Card sets
The game difficulty is also dependent on the attributes existing on the current card set. Typically, sets that have values widely spread between cards will be more difficult than those with highly concentrated values or distinctively "strong" and "weak" cards.